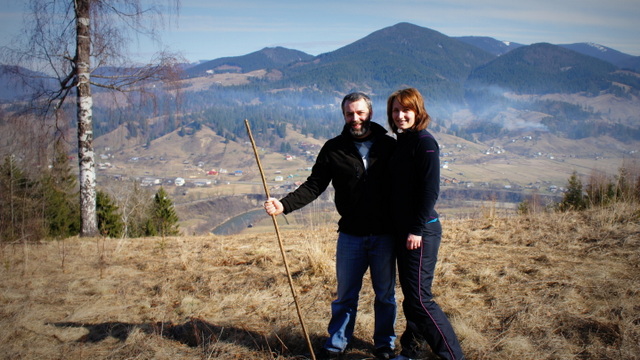 Looking back to our wedding, 15 years ago today, I'm more in awe than ever at God's merciful hand in leading me to a beautiful and godly woman. Honestly, I was head over heals in love and had little clue what marriage meant for me, all I knew was that I just wanted to get married to this one pretty Ukrainian girl really, really badly.
I wouldn't say we've ever had a bad marriage, but we're both born sinners in desperate need of change. Thankfully, God has changed us both a lot over the past 15 years. I thought this would be an appropriate time to share some of the lessons God has taught me through marriage to a truly wonderful woman.
I decided to keep the list down to 15, one for each year of our marriage!
1. Marriage is probably the greatest tool beside the Bible that pushes me towards godliness.
2. My wife is way smarter than me in many areas of life and I have no problem with that.
3. Forgiveness must be a way of life because neither of us are perfect!
4. It's just as important, and sometimes as difficult, to learn to forgive as it is to learn how to accept forgiveness.
5. A hurtful word can never be completely taken back.
6. I always try to tell my wife I'll be home an hour later than I think and if I'm lucky I make it home 10 minutes before I told her I'd be home.
7. I need to pray with my wife and pray for my wife every day.
8. I simply cannot lead my wife spiritually if I am not growing spiritually myself.
9. Communication skills are overrated, all problems in marriage stem from sinful heart and need to be treated on a heart level first!
10. When I find myself wishing my wife was more like myself I just stop for a minute and imagine how awful it would be to be married to myself!
11. It's my job to look after the physical and spiritual well-being of my wife and I can't delegate it to anyone else.
12. My success in almost every aspect can be directly attributed to my wife!
13. Only God himself knows me better than my wife, so if she has some criticism for me, I better listen!
14. The job of a mother of five and homeschooler of four is never ever done! She needs my help at home.
15. Outside of my relationship with God my relationship with my wife will always be the primary relationship. I need to be her best friend, her partner and her lover and I must fight vigorously to keep it that way!
I am still learning! I hope that God gives me many more years to learn many more lessons.
So, what did I miss? Is there anything you would add to my list? Let me know in the comments below.