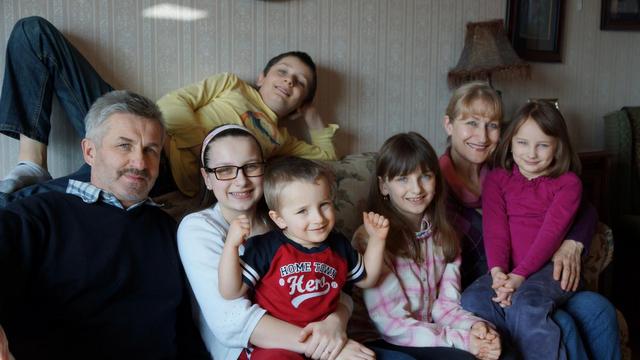 Today, March 8th, is International Women's Day celebrated widely in the countries of the former Soviet Union. The streets are full of flower sellers and every woman has a bouquet in her hands on this day.
But today I didn't end up with a bouquet, but rather with a great shock for a present…
The day started as any day, Caleb woke me up with a kiss and a cup of coffee, the children had their schoolwork to do, we shipped our youngest off to grandma's for the day. For lunch Caleb decided to take me for a long brisk walk. I was encouraged by this a lot more than by the idea of a lunch in an overcrowded restaurant as everybody was celebrating the holiday.
Before we left for our walk we gave the children strict instructions to finish their schoolwork, not to bug each other and, if anything happened, Naomi had to call us right away.
We had walked for about 1,5 hours when my phone rang. It was our eldest, Naomi. I nervously picked up the phone and to my horror I heard screaming and squealing in the background. My first thought was that the apartment was on fire.
On the other end of the line Naomi, on the verge of tears, told me that the kids had gone crazy, are fighting each other and nobody is doing their schoolwork… In a quiet but stern voice I asked to speak to Mishael (10 years old). I scolded him and told him that he was grounded from computer games until the end of the weekend. He was to sit on his bed and wait for our return home. Same fate awaited the two little girls (8 and 6 years old).
As we walked home I told Caleb that I mistakenly thought that the kids were mature enough to be left at home with Naomi. With a heavy heart we climbed the stairs to our apartment and tried to unlock the door, but it was not locked….
With trembling hands I opened the door. The apartment was quiet. At first I noticed that the kitchen was sparkling clean, the mountain of clean laundry in the living room was gone and there was a candle lit on the side table.
As I walked down the hall I noticed more candles and an orchid on the table. Every room has been perfectly cleaned but the children were nowhere to be found! That's when I realized that Caleb and the kids tricked me!
We eventually found all four kids sitting crammed in a dark pantry. I opened the door and they all gave me a hug and a smile. Not only did they finish their schoolwork faster than usual, they also cleaned the entire apartment from top to bottom. I couldn't have wished for a better gift for March 8th, than a bunch of happy and kind children.
Psalm 127:3-5
New International Version (NIV)
3 Children are a heritage from the Lord,
offspring a reward from him.
4 Like arrows in the hands of a warrior
are children born in one's youth.
5 Blessed is the man
whose quiver is full of them.
They will not be put to shame
when they contend with their opponents in court.

Question: Could you share an occasion when your children became a blessing to you?