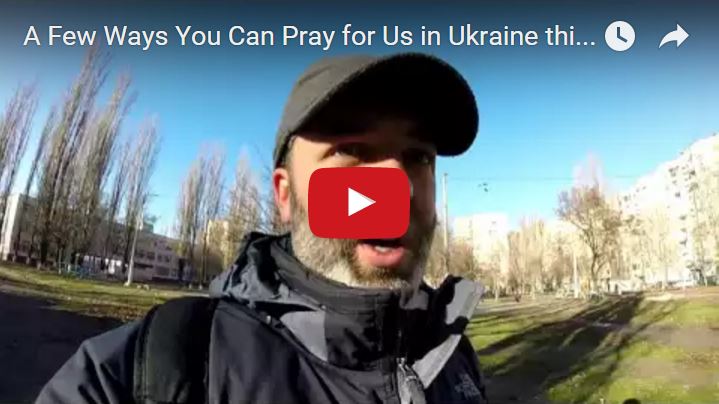 I thought I would take a couple of minutes on my way to work this morning to talk with you about what's happening here in Ukraine.
Below the video I give you a few bullet points for prayer, but I talk about each one in more detail in the video so don't miss it.
Mission to Georgia
We took a group of Ukrainians on a cross cultural trip to the country of Georgia early last month. The trip stretched them as they saw how Georgian churches are different from Ukrainian churches. It also gave them a valuable perspective on Syrian refugee ministry as they heard from several different ministries who are working with those refugees.
Pray for that those who went on the trip would be catalysts for missions movements from Ukraine!
Outreach to disabled refugees
Our outreach to disabled refugees from the Ukraine war zone is growing. We started with a handful of 10 people and in just a few months have grown to nearly 70! We minister to this group every Sunday and Tuesday.
Pray for wisdom as we plan the future of this ministry. Pray for the emotional and physical needs of these refugees. Pray for their salvation.
Biblical counseling material
Christina is working with our translation team to complete the Biblical counseling material that will be used by the pro-life ministry here in Odessa. It's a big project and taking more time than they had hoped for.
Pray that the team would be able to quickly finish this project so it can be used by the pro-life women's center.
Church leaders conference
I'm helping to organize and speak at a church leaders conference on December 11-12. The topic will be transformation of the church through discipleship.
Pray for me and the other speakers as they prepare. Pray that the conference would be beneficial to all who attend.

If you know of someone in Ukraine who might benefit from this conference you can find information here.
Thank you!
Let me just say "thank you!" for your prayers and support. Please know that we consider it an amazing privilege to serve Jesus in Ukraine during this critical time in her history.
If you'd like to learn how you can support our ministry you can learn how here.