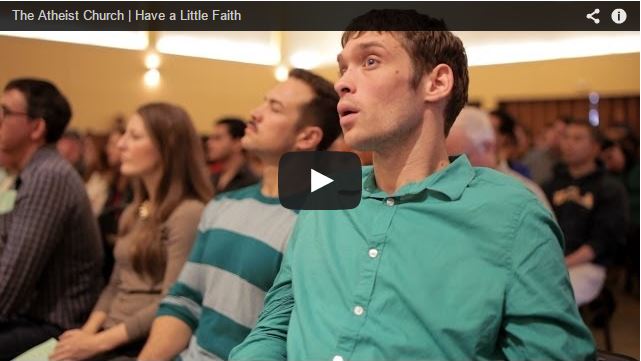 By 2025 there will be over 6,000,000 fewer atheist world-wide, that's a loss of about 1,700 atheist a day over the next ten years according to a report on the status of Global Missions in 2014  by Gordon Conwell Theological Seminar. 
I began researching this trend recently after watching this video from Zach Anner about Sunday Assembly, which is basically a secular/atheistic attempt at doing church!
More Atheist Want to Practice Religion
Zach's video on Sunday assembly reveals a surprising aspect in atheism and secularism. It's obvious that our atheistic friends want something more. They long for the relational element that most religions offer. Ironically they are trying to become more like their friends who believe in God but do it in a way that doesn't require God.
These kinds of attempts to bring morality and religiousness into atheism are not new. All you have to do is study the history of the former Soviet Union and you will see how they tried to replace God with Lenin. You'll also find that they tried to replace the Bible with the Communist Manifesto and other writings of Marx and Engels.
What we do know is that these attempts to make atheism religious never last, just like atheistic communism didn't last!
Low birthrate
Atheism and it's secular worldviews lack any real motivation for procreation and thus tend to have very low birth rates. Some ideas which atheists promote lend to this lowered birthrate such as:
Sterilization
Atheist are known for promoting programs that encourage voluntary and sometimes even compulsory sterilization.
Emphasis on education and career
They also emphasize science, education and careers as a very high value for the individual. These values tend to put off childbearing until much later in life.
Abortion
Ironically abortion is an issue that many atheist have spent much of their life trying to promote but in the end it's the millions of abortions that will kill off the atheist population!
Historic Atheistic Countries Changing
Our world is changing and many countries that used to be bulwarks of atheism have completely changed their allegiances. The most notable of these is the former Soviet countries.
It's astonishing to realize that a country, where just 30 years ago you could be shipped off to the gulag for practicing your religion,  now has a president who unashamedly talks about his faith and often is seen interacting with church leaders. Yes, I'm talking about Vladimir Putin, who not only claims to be a Christian but has taken a strong stand against issues like homosexuality.
Another country to consider is China which is considered to be an atheistic country, yet Christianity is booming there! Some even say that within 15 years China will be the worlds largest Christian nation!
Growth of Major Religions
We know that atheist aren't reproducing physically but atheistic evangelists aren't doing much for their cause either. According to the study by Gordon Conwell Theological Seminary all major religions are experiencing major growth.
The strongest per year growth is in Christianity 1.29%, Hinduism 1.38% and Islam 1.81%. This is opposed to a .03% annual growth of atheism and it appears that number is falling.
Survival of the Fittest
Ironically this is a question of survival of the fittest. As it turns out atheism isn't the fittest for human survival and flourishing. Maybe that's because God made man as a worshiper and gave him certain laws to live by. Turns out that societies who try to stick to at least a few basic Biblical principles do better and last longer!
Evangelism Is Changing
The death of atheism doesn't mean that the church's task in evangelism just got easier. What it means is it's changing!
The Christian's job is to communicate the gospel and in order to do that effectively we need to be aware of the major cultural beliefs around us. Much depends on where you live and what crowds you mingle with but I'm guessing you are coming up against atheism less and less.
I'm not suggesting that we abandon our arguments for God's existence of for an intelligently designed universe.
What I am suggesting is that we pay more careful attention to the teachings of people like Muhammad, Buddha, Dalai Lama, Ekhart Tolle, Deepack Chopra, and Oprah Winfrey. They are the religious teachers of our world today. Understand them if you want to reach the world around you!
Question: Do you think atheism is dying? Why or why not?