"I asked _____ to teach the adult class this Sunday, he doesn't come to church often but he graduated from seminary so he should do fine."
Yes, I've actually heard a very similar statement as the one above on more than one occasion! Of course this begs the question, how do you measure your spiritual growth?
Do you measure it by how much time you spend reading your Bible and praying?
Or maybe you measure it by how many good Christian books you read?
You might try measuring it by how many years you studied theology and ministry at a Bible college or seminary?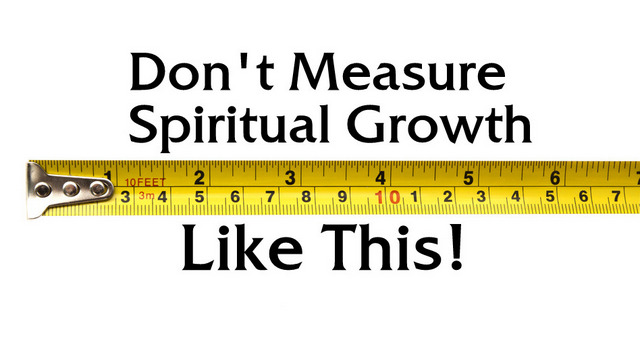 Let's face it, these methods of measuring spiritual maturity are dangerous and can lead to spiritual apathy instead of continued growth if we are not careful.
Recently I re-read some of Paul David Tripp's book "Dangerous Calling" and the following text struck me.
"Since seminary tends to academize the faith, making it a world of ideas to be mastered… it is quite easy for students to buy into the belief that biblical maturity is about the precision of theological knowledge and the completeness of their biblical literacy. So seminary graduates, who are Bible and theology experts, tend to think of themselves as being mature. But it must be said that maturity is not merely something you do with your mind (although that is an important element of spiritual maturity). No, maturity is about how you live your life. It is possible to be theologically astute and be very immature." —-Paul David Tripp "Dangerous Calling"
I work in an academic setting so it's easy to fall into the trap of thinking that education and theological knowledge equal spiritual maturity. While we must not minimize the role of clear Biblical teaching we must never equate a seminary diploma with spiritual maturity!
How is it that a man or woman can go through seminary or Bible college and not grow spiritually?
The answer is simple!
We humans are very good at not allowing our head knowledge to affect our heart condition. We have learned to store things away in the crevasses of our frontal lobe where it is unlikely to ever be seen by our soul. We may find theology interesting, Biblical history intriguing, and doctrine stimulating but it's much less likely that we will allow those truths to find us on the heart level!
Part of the problem is the false presupposition that acquisition of knowledge alone will bring us to maturity. It won't, it will bring arrogance, pride and disappointment instead! (I Cor 8:1)
The other part of the problem is our own reluctance to allow the truth of God's Word to deal with the dark and dirty matters of our heart. Let's face it, there are some things there that stink.
Sin is like a monster that often hides away in the basement of our hearts, we'd rather that no one saw it or knew about it, we even deceive ourselves about it sometimes. (Read the poem "There's a Monster in My Basement")
Finally, we often simply fail to put into practice what we are learning. James stabs us right in the heart with these verses:
But become doers of the Word, and not hearers only, deceiving yourselves. Because if anyone is a hearer of the Word, and not a doer, this one is like a man studying his natural face in a mirror; for he studied himself, and has gone away, and immediately he forgot of what kind he was. But the one looking into the perfect Law of liberty, and continuing in it, this one not having become a forgetful hearer, but a doer of the work, this one will be blessed in his doing. If anyone thinks to be religious among you, yet not bridling his tongue, but deceiving his heart, this one's religion is vain. Pure and undefiled religion before God and the Father is this: to visit orphans and widows in their afflictions, and to keep oneself unspotted from the world.
(Jas 1:22-27)
Practical application of truth in our lives is vital, that's why we take our students out of the classroom every year and do something called "Extreme Institute." We want our students to not only have a head knowledge but also a hands on experience and a heart attitude.
(There's a couple of pictures below, or you can view the entire picture gallery here.)
Getting out of the classroom allows us to interact with our students on a more personal level, it gives us opportunity to spend a few days with them and share with them on a heart level.
It also allows our students to get there hands busy with real ministry! This is important because spiritual growth often happens when we serve others!
Question: How do you measure spiritual growth?