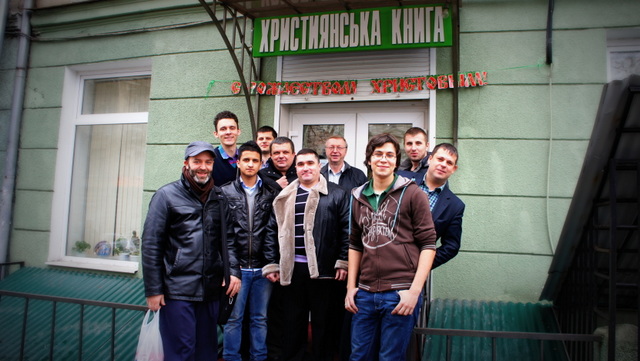 Today we had the privilege of visiting Skiniya (Tabernacle) Church. This group of Jesus followers meets in a Christian bookstore in downtown Odessa. This church is a sister church to ours as both were started by Peter Rodoslavov.  We always enjoy visiting because of the close fellowship we share with them.
Skiniya has a great ministry in many orphanages and assisted living homes throughout Odessa. They also recently started a weekly craft group as and outreach to women.
Check out some pictures below and then keep scrolling down for a few ways that you can pray for Skiniya.
Skiniya needs your prayers and here are a few ways you can be praying.
Pray for strong leadership as the church transitions to independence from the mother church

Pray for a good solution to their space needs, Sunday mornings are very full

Pray for vision as they look for ways to reach the downtown area of Odessa
Can you pray for Skiniya? Let me know if you can pray in the comments below.  I'll pass it on to them and it will be a real encouragement.