"Please pray that they don't draft me into the army!"
That was one of the prayer requests as we concluded our youth meeting this past Sunday night.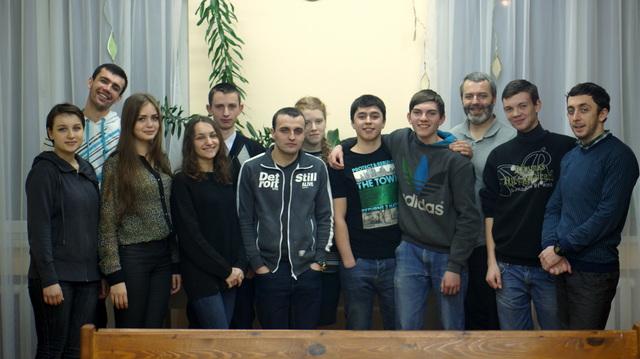 I was grateful for the chance to speak with these young people who are not very much different from any other young people in any other country.
They enjoy spending time with their friends, they like to take selfies, they probably spend too much time texting on their phone, and when they get together there's a lot of laughing.
The difference is that they are also dealing with the constant pressure of a war being fought in the back yard of their country. A war that just a few months ago drafted one of their youth leaders into its service.  A war that shouts out it's death count daily from TV news. A war that is burning further across the map of Eastern Ukraine.
That's why I thought it would be appropriate to talk with them about fear and most importantly about the best kind of fear, the fear of the Lord!
Together we opened Proverbs 1:7
The fear of Jehovah is the beginning of knowledge; but fools despise wisdom and instruction.
(Pro 1:7)
We found out that when we learn to fear the Lord it helps eliminate those other fears and phobias, it also provides us with exactly what we need to apply God's Word to our lives.
I hope you'll take some time this week to pray for our youth. Below are a few ways you can pray.
Pray that our young men would trust in God's care and not worry about being drafted.
Pray that our youth would not be distracted by the temptations of the world but would earnestly seek God and grow in their faith.
Pray that our youth would find active places of ministry in our church.
Pray that our youth would be bold in sharing the gospel with their friends and family.