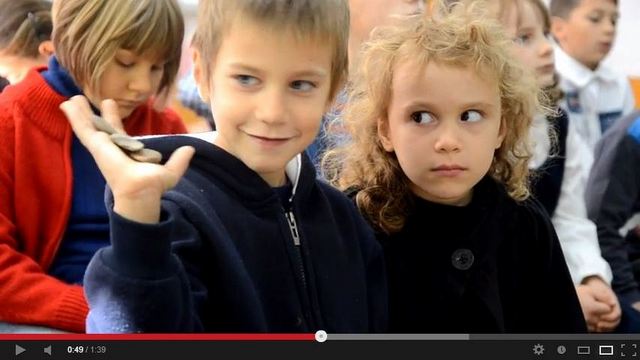 Yes, you read that title correctly, you need to stop telling your child to behave!
Why?
Because you're missing the point. Life isn't just about good behavior, it's about having a heart that's right with God.
When all we do is tell our children how to behave we forget that all behavior is a symptom, the problem lies much deeper in the heart of the child.
This past Sunday I taught the first Sunday School lesson of the school year to the children in our church. I told them the story of Rahab and the spies and how Rahab was saved.
I didn't tell them how they should behave but rather I focused on what God did for Rahab and what he can do for us!

Alright I admit, sometimes we do need to tell our children to behave, especially when they are little. However, I'm convinced that often as parents we default to telling our kids what to do rather than focusing on changing their hearts by introducing them to Jesus Christ.
In order to train your child up in the Lord you must find ways to teach your child that don't include instructions on behavior. It's vital that our children understand the core concepts of who God is, who man is, the problem of sin and the solution for sin.
Here are 5 methods you can use to teach your children these core Biblical concepts.
Use life situations to explain theological truths
There are more learning moments in life that we realize, that's why Moses exhorted the people to teach their children,
as you sit in your house, and as you walk in the way, and as you are lying down, and as you are rising up. Deu 6:7
Use regular moments throughout your day to impress your child's heart with God's goodness, the seriousness of sin and the hope we have in Jesus.
Exemplify salvation truths like grace and mercy in your relationship with your child
I didn't know how hard this was until my kids got old enough to notice and comment on my bad example. Children will see through your hypocrisy before anyone else.  Sometimes we can teach our kids about the need for mercy and forgiveness when we ask them to forgive us.
Your child doesn't need to think that you're perfect, in fact he needs to know the opposite, he needs to know that you are imperfect, yet forgiven and growing!
Point out who God is through natural revelation
God has placed around us endless signs that point to his greatness, majesty and beauty. Don't fail to use the sky, trees, ocean and all of creation as a never-ending object lesson on God's nature!
The heavens declare the glory of God, and the sky above proclaims his handiwork.
Day to day pours out speech, and night to night reveals knowledge. Psalm 19:1-2
Emphasize the importance of a right heart over right action
I've noticed that often I want my child to behave because of the benefit I receive. When my children do what I ask them to do the house is quieter, cleaner and I'm not as distracted. That's nice but the point of parenting isn't really to make my life easier!
The point of parenting is to instill God's Word so deep into the life of my child through my actions and my words that one day my child will take his own step of faith and give his heart over to Jesus.
You and I must communicate to our children that behavior is always secondary to the condition of the heart. A heart that has been brought into submission to God's will through repentance and faith doesn't need to be forced to perform righteous acts.
Read and discuss the Bible stories together
I love reading Bible stories with my kids but sometimes we have a hard time getting through the whole story because we stop so often to discuss the "why" of what is happening in the story.  It's not enough to simply read the Bible with our children, we must help them make the connection between the text of the Bible and their lives today.
Question: What other methods do you use to teach your children Biblical truth?