Special gifts at the end of the year go a long way to help with ministry expenses. These include the costs associated with running our seminars, printing material, and outreach to Ukrainian soldiers.
Note: You can download our 12 page 2017 year end report here.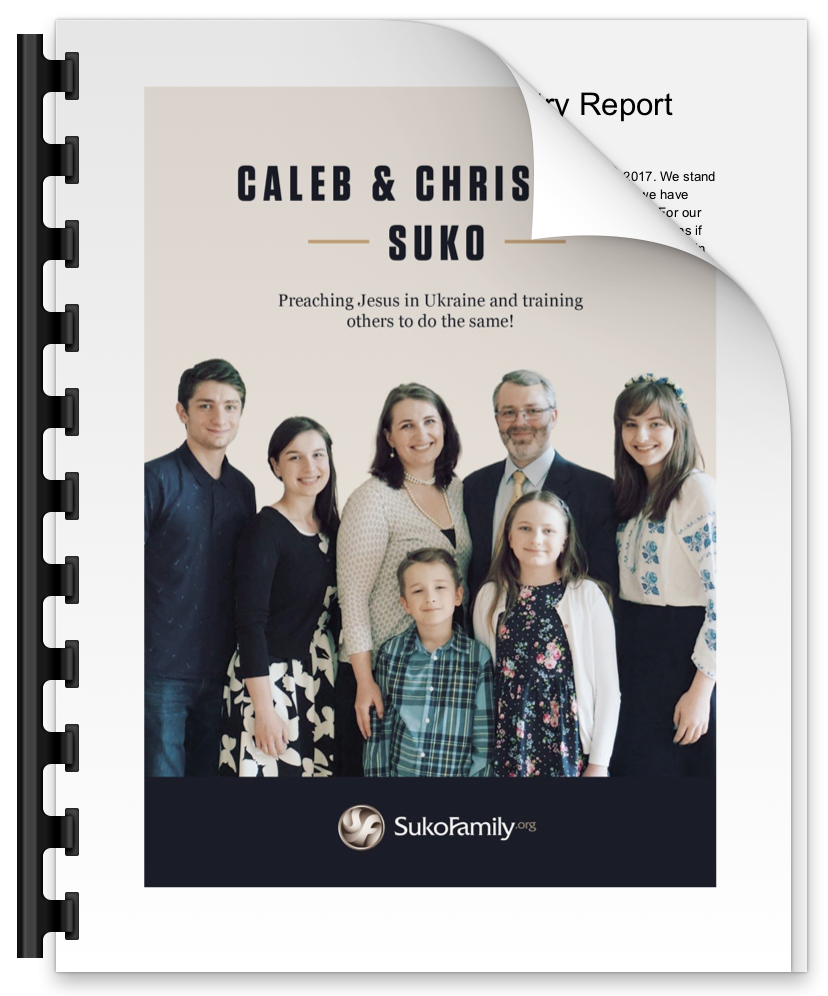 2017 Year-end Giving Instructions
If you'd like to give a year-end gift for 2017 here's how it works.
To assure your gift is credited in the correct tax year:
* All gifts must be postmarked 2017 to receive a 2017 tax deduction.
* Online giving is available until midnight December 31, 2017.
Please follow instruction below for giving online, by phone, or by mail.
---
Online
Note account #0133543 and give securely via credit/debit card or bank account on our mission's website.
---
By Mail
Note account #0133543 and send to:
ABWE PO Box 8585
Harrisburg, PA 17105
---
By Phone
ABWE USA (800) 901-2293
Please request funds be sent to Caleb and Christina Suko account #0135433
All gifts are tax-deductible.
If you have any questions don't hesitate to send us an e-mail or give us a call @ 253-203-6749.
---
Monthly Support
You can sign-up for regular support using one of the two options below.
Make sure you include our names and account #0133543.
---
Canadian Donors
Please note account #0133548 when giving or choose "Caleb and Christina Suko" from the drop-down list if giving online.
(the last digit of this account # is different than that for the US account)
Visa, Mastercard or American Express accepted. Canada Helps deducts a 3.5% processing fee, but your receipt will be for the full amount of your gift.
By Phone:
Please call the ABWE Canada office at 877-690-1009. Office hours: 9:00 AM to 4:00 PM EST, Monday to Friday. Visa or Mastercard only. A credit card processing fee of approximately 2.2% is deducted, but your receipt will be for the full amount of your gift.
By Mail
Note account #0133548 and send your cheque or money order, made payable to ABWE Canada, to:
ABWE Canada
34 – 980 Adelaide Street South
London ON N6E 1R3