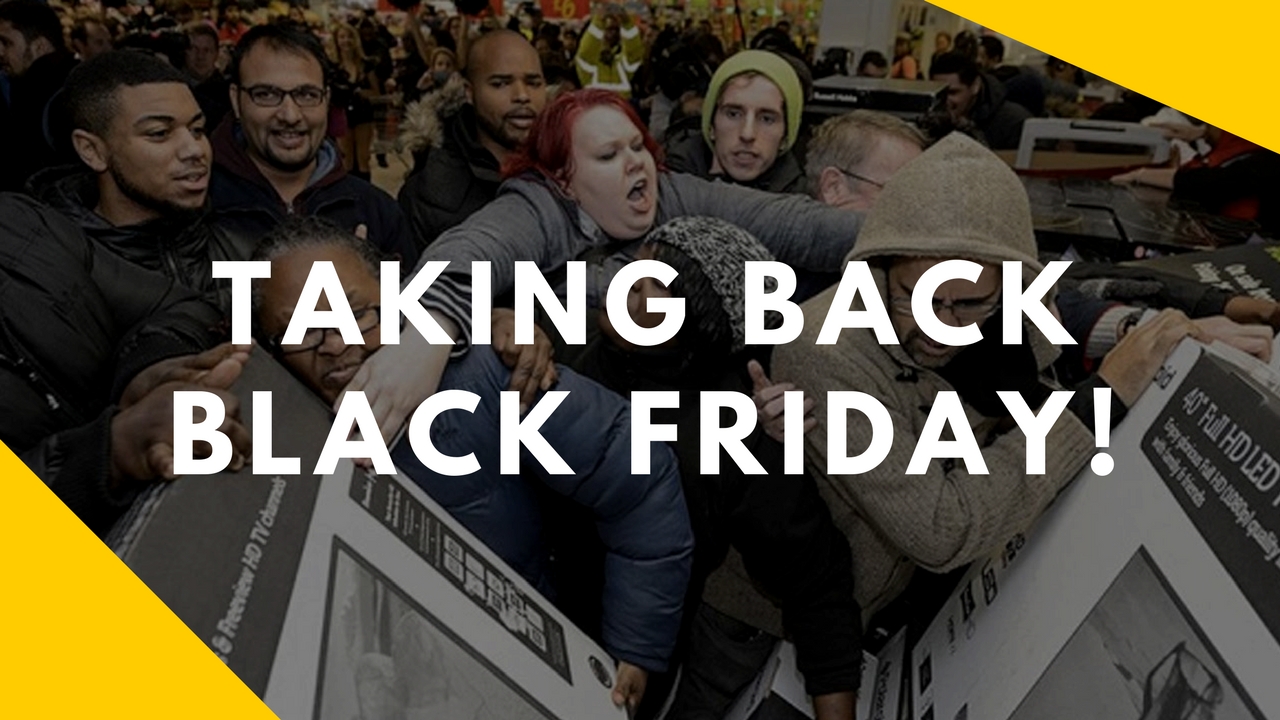 There are some aspects in US culture that I desperately loathe and one particularly loathsome tradition is Black Friday. I must admit it at least lives up to its name; devoid of light and lacking any glow of goodness.
Sadly, my Ukrainian friends ask more questions about Black Friday than they do about Thanksgiving. I don't blame them, as it turns out American's insatiable appetite for new gadgets and gizmos far exceeds their token gratitude the day before.
The consumer craze isn't fueled by hearts overflowing with thanksgiving but rather hearts devoid of it. Shrewd businessmen know that a little discontentment in the heart of the consumer can easily be fermented with a few shiny advertisements of smiling models and discount prices. This brew of greed and covetousness produces a nice crop of voracious customers who will line up outside your stores' front doors in the wee hours of the night. They'll fight to be the first one to slide their plastics and rack up more debt. They'll push and shove to come out of with the latest model of a device they probably already own but no longer want.
Let's take a stand
Any appearance of gratefulness on Thanksgiving day is now overshadowed by the cancerous growth of consumerism.  It is here that the Church must take a stand, she must be radically different, she must push against the flow of a covetous culture by showing the world a contentment that can not be found in TVs, tablets, and technology. She must show our society that true contentment is only found in God!
6  But godliness with contentment is great gain,
7  for we brought nothing into the world, and we cannot take anything out of the world.
8  But if we have food and clothing, with these we will be content.
9  But those who desire to be rich fall into temptation, into a snare, into many senseless and harmful desires that plunge people into ruin and destruction.
10  For the love of money is a root of all kinds of evils. It is through this craving that some have wandered away from the faith and pierced themselves with many pangs.

I Timothy 6:6-11
Let the Church take a stand by not allowing these insatiable appetites to rule us!
Do we really need to make a mad dash for the stores after shoveling in the last bites of pumpkin pie?
What is motivating us to sprint out the front door while the turkey is still warm?
There's rarely a Christian who would make such effort and fuss about getting to church on time as there are those who would gladly scour the ads for deals, stake out spots by the front door of their favorite store, and make sure no one beats them to their prized product!
We must take a stand but before we can do that we must make sure our hearts are standing in the right place. If our contentment is not found in Christ and Christ alone then we are doomed to fail. May we say with the Apostle Paul:
"For to me to live is Christ and to die is gain!" Philippians 2:21
Let's take back Black Friday for the Gospel
However, I don't think it's enough just to have a right heart attitude. We need action, we need to do something to show the world around us that we are different, that we are not guided by greed, that we are not fulfilled by finding discounts, and that we do not find purpose in purchasing new technology!
If we want to redeem Black Friday we must do more than simply refuse to shop. We must do the opposite, we must give! We must give to gospel projects with gospel purpose.
It may not be popular but here's how I propose we take back Black Friday for the Gospel:
Refuse to join the hoards of shoppers on Black Friday.
Talk with your spouse or family about a missionary, a minister, or a ministry that is focused on spreading the Gospel and pray for them specifically on Black Friday
Discuss with your family how you could give a special gift or donate something towards your chosen ministry.
Christina and I have already talked about this and as a family we will be giving a special gift to our chosen ministry and praying for them together with our children on Black Friday. I think this is a great way to get their hearts off the consumerism and onto the gospel.
Join the rebellion
I invite you to join us in our little rebellion against Black Friday. Here's what you can do.
Share this post and ask others to join in
Use the hashtag #Takingbackblackfriday
Leave a comment in Facebook or on this post letting us know you've joined!