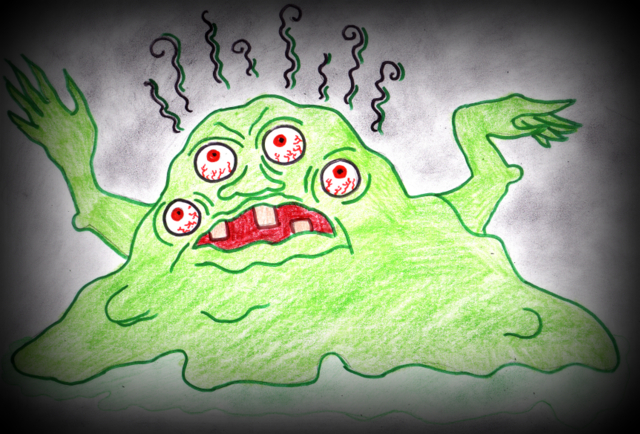 I started writing this poem a few years ago and only got half way through. It stood for a long time needing to be finished, needing a resolution to the monster problem. Last Saturday before I preached at Thurston Community Baptist Church, I sat down and finished the poem and gave it a fitting ending.
I'd love to know what you think about this poem, so please leave me a comment or send me a note.
---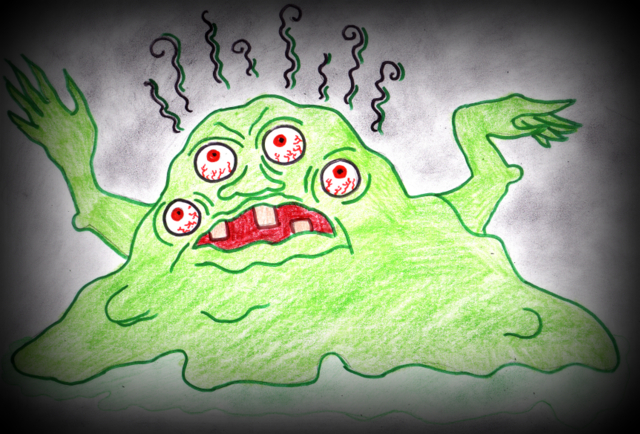 The Monster in My Basement
I have a monster who lives in my basement, I know!
He's been there for about 35 years or so.
He has 4 eyes a giant nose and a huge appetite,
He eats so much food I have to feed him 3 times every night!
I do my best to keep him hidden away,
If my friends saw him I don't know what they'd say.
The problem is that he's getting bigger all the time,
Last week he gained about 30 pounds, not counting the slime!
And when he gets mad you wouldn't believe the nasty scent
which comes up through the chimney and then through the vent.
Once he popped his gnarly head out the door,
I had to convince my neighbor it was a shadow and nothing more.
Years ago he was tiny little thing
Who hardly ate more than a chicken wing.
It wasn't much to keep him fed,
At night he didn't even get me out of bed.
I thought, "Now, this is not so bad,
As long as I give him a little food, he's glad.
No one can fault me if I keep this monster a little longer,
I'll be sure to get rid of him before he gets bigger and stronger."
I kept saying that to myself every day of every week
But something kept me from getting rid of that freak.
At first it was fun to have him around:
When I played with him he'd make this cute little sound.
"I can give you just a few more minutes," I'd say
"Then I'll have to go and get on with my day."
We'd meet regularly for 15 mins or more,
Then it was an hour sometimes three or even four.
Now I spend almost all my time with that thief
And he throws giant fits when I don't bring him roast beef!
I'm tired my poor bones just ache
But I can't stop now because I know what's at stake!
If I let him out he'll run all over town
Spreading his terrible stink around.
Then I figured what would be best:
I'd slaughter that beast and finally get some rest.
I tiptoed down the stairs quiet as can be
Only to find him waiting for me!
"You can't kill me," he said with a sneer.
"Just try and I'll prove that it's quite impossible, my dear."
I raised the knife into the air with a start
Then brought it down swiftly into the old monster's heart.
He looked at me strangely with eyes all aglow
Then said, "Fool, there's something you should know.
My heart and your heart are one and the same,
You can't kill me because you're really the one to blame!"
The truth is I couldn't remidy my situation
Surely this monster would bring my damnation
I hung my head low and my knees hit the floor
When suddenly I heard a knock at the door
Not now I thought with grief and dispair
Someone will know about this ugly affair
Up the stairs I labored, each step a chore
But finally I made it to that horred door
My heart struck a beat of irregular meter
My hands began to sweat and my legs to teeter
I paused for a moment as I grabbed the knob
Should I try to hide that beastly blob?
No, it was quite impossible now
Even the basement couldn't contain that ugly cow.
I knew I was done, I wanted no more
So I gathered my courage and opened that door!
Shafts of light filled my home as the door swung wide
It was so blinding I almost thought I had died
I squinted and blinked to see who was there
When out of the brightness a pare of eyes met my stare
Kind and compassionate, yet filled with sorrow
"May I come in" he asked, "or should I return tomorrow?"
"No, come in now, you're very needed!"
"Could you help me kill a monster?" I pleaded
"Why I thought  you'd never ask" he said with relief
"I'll do it right now, I'll get rid of that thief"
"Wait" I cried, "that monster has made me poor as dust"
"It's ok my son, I require nothing but your trust!"
He marched right down there and removed that brute
I was so happy I jumped into the air and gave a hoot!
"He's gone that monster, and now I'm free!"
"But I'll live the rest of my life in service to thee"
Because it was Jesus who came into my home
Killed that monster and sat on the throne
That monster of sin has been removed
My life has changed and my future improved
Thank you Jesus for your great sacrifice
Your death on the cross paid my price.
---
We have a problem
The heart is deceitful above all things, and desperately wicked; who can know it? Jer 17:9
For out of the heart come evil thoughts, murders, adulteries, fornications, thefts, false witness, blasphemies; Matthew 15:19  
We have hope
So that if any one is in Christ, that one is a new creature; old things have passed away; behold, all things have become new. 
 For He has made Him who knew no sin, to be sin for us, that we might become the righteousness of God in Him. 2Co 5:17, 21