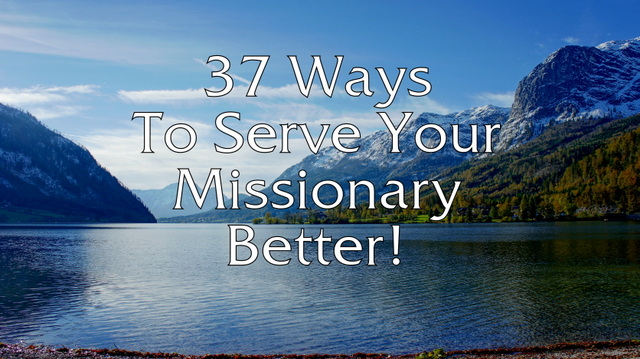 Most churches love their missionaries but few know how to serve them well. After our time in the States last year visiting all our supporting churches I thought it would be good to put together a list of ways churches can serve their missionaries.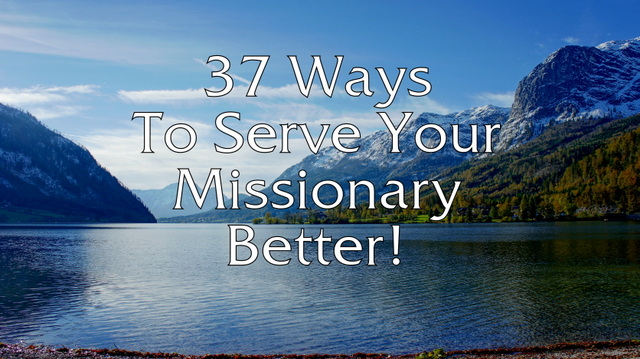 Below you'll find both suggestions about how to serve your missionaries when they are home on furlough and when they are on the field. Some of these ideas I got from churches who already do them, some of them I got from other missionaries and some of them are just my own.
Please note our supporting churches serve us very well and we are so grateful for them, this is not a list of complaints and I'm not hinting at anything. The main purpose of this list is to provide churches with helpful ideas on how they can serve their missionaries better.
37 Ways to Serve Your Missionaries
Connect with your missionary on Skype if possible.
Respond to your missionaries e-mails with encouraging words.
Gift cards are better than missionary closets.
Make sure they have the Wifi password!
Give them options for lodging (some may prefer to stay with a family and some may prefer to stay in a hotel.)
When the missionary is at your church give them time to rest.
If you have technical resources for website design/building, offer it to your missionary.
If you have a videographer in your church, offer to help your missionary make a video.
Ask about their personal needs.
Look for ways to minister to their children.
Give a gift card for a night or two away.
If you have a mechanic in your church, offer to change the oil in their car or other maintenance.
Communicate with them well ahead of time about what you would like them to do on Sunday morning.
Don't be a one way street, communicate with your missionaries about what's going on at your church regularly.
Assign one person per missionary that your church supports. Let that person communicate with the missionary and be the missionary's voice.
Think of other ways to include your missionaries in church life outside of Sunday morning.
Do a no-host lunch or dinner at a local restaurant and allow your missionary to share in more detail about his ministry and answer questions.
Offer to print prayer cards or newsletters.
Ask them what foods they miss and send a small care package.
Give your missionaries the option of eating light when they're at your church.
Update your missionary's prayer card on the church bulletin board and website often.
Make sure your church members know who the missionaries are before they arrive.
Read your missionaries prayer letters (or parts of it) on Sunday morning when possible.
Give your missionaries some time to acclimate once they get back to the States.
Ask your missionary about their vehicle needs before they come home on furlough.
Ask your missionary about their support needs even when they're not on furlough.
Provide your church members with pre-addressed  cards to send to your missionaries.
Allow your missionary to attend a service where he's not the main attraction.
Offer to send your missionary to a conference/seminar that will minister to him and/or his family.
Understand that your missionary's time is limited, give him the option to say "no" to some things.
Remember that your missionary's family might be going through reverse culture shock.
Write out a prayer and send it to your missionary.
Offer to help your missionary with mailings.
Find out what things can be sent through the mail to your missionary that might be helpful in ministry.
Ask your missionary about special ministry needs that might need to be financed.
If you send a team to your missionary, make sure it is planned well in advanced and that you communicate clearly.
If you haven't heard from your missionary in a month or two, check with them. Maybe you accidentally got off their list.
Question: What suggestions can you add to this list? Please leave your suggestions in the comments as a resource for others.