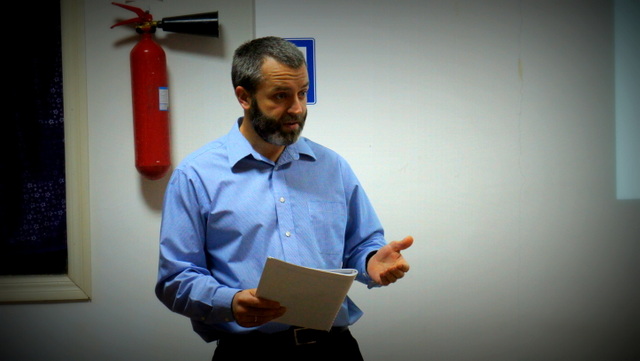 There were times during my first year in Ukraine when I literally thought my brain was melting. I was working so hard a learning Russian that I started to forget English!
The first year of learning a new language can be discouraging if you don't have a proper outlook. One thing I learned quickly is that comparing myself to others is never a good idea. Thankfully, I never had the chance to compare my language skills with my wife since Russian is her native tongue!
Five and a half years later I am glad to report that I have made progress. I preach and teach in Russian but it's still difficult. Learning any language is really a life long task so I'm not discouraged when I run across a word or figure of speech that I don't know. The important thing for me is to keep adding to my knowledge and working on my language skills.
I want to share with you a few tips I've picked up along the way. These are ideas and methods that have helped me and I hope will help you too.
Except for the first tip the list is not in any particular order.
Practice is king
By "practice" I mean finding situations where you regularly hear spoken language and have the opportunity for interaction. For me this happens at church, work, when we have guests over, in the store and with my neighbors. If you have more of an "out going" personality this may be easier for you but don't lose heart if you don't. That just means you need to work on finding those opportunities regularly and consistently.
Don't compare yourself to others
You need to focus on your own progress. Some will learn faster, that's just they way it is.
Have the courage to sound stupid
If you're not used to saying stupid things and sounding like a three-year old then you're probably not ready to learn a new language. The faster you can get over this hurdle the sooner you'll be on your way to speaking with proficiency!
Focus on using what you already know
It can be discouraging you when you think about what you don't know. You need to realize that there will always be unfamiliar words and figures of speech. I'm still learning new words in English. Focus on using what you do know and using it correctly. Add new concepts as they come.
Don't use the excuse "I'm just not gifted in language"
If you speak any language then you have what it takes to learn another language. Too many people have given up because someone told them they are not "gifted" in language. Personally, I have never felt that I'm gifted in language and I still don't feel that way. However, that doesn't stop me from standing in front of 100 or more native Russian speakers every week and giving it my best!
Be a copy cat
First of all I do this in my head by constantly repeating phrases and pronunciations that I hear while listening to a native speaker. When you talk try to imitate a native speaker you know well. You might feel weird doing it but trust me, others will think it quite normal.
Always be in a learning mode
Read everything and always be alert. You may not think that your brain is taking it all in but your brain can amaze you. I have often used new words that I don't even know where they came from. They just sounded right and so I used them. The brain has a way of filing everything and then bringing it up later when we need it. It helps when we are aware of this process.
Give yourself time
Don't expect to be fluent in any language in 3 months. Some people may promise this but it's not realistic. Yes, you may be able to hold a basic conversation after 3 months but if you want fluency you need to be in it for the long haul.
Don't hit the books too hard at first
I'm not saying that you shouldn't use books or study grammar I'm just saying that it works best once you gain a little experience in language. Learn like a child; listen and understand first, then work on speaking and finally work on reading and grammar.
Find a teacher who will only speak to you in the new language
Conversing with a native speaker who understands your language needs is vital. Especially in the first few months of study you need a teacher who will under no circumstances speak to you in your native language. This will force your brain to began making the new connections that it needs for this language!
Force yourself to talk with different people
You will be able to understand those with whom you speak most often. Try to broaden your circle so you can talk with people who might have a different accent or use different vocabulary.
Remember to engage in all aspects of the language
Listening, speaking, reading and writing are the main aspects of every language. Try to be engaged in every aspect.
Work on pronunciation as early on as possible
My wife, who speaks Russian as her first language, was a great help to me on this. I realize that not everyone has a spouse who is a native speaker. However, it can be helpful to find a native speaker who is willing to work with you specifically on pronunciation. You may even want to consider finding a professional speech therapist. The problem is that once you set your pronunciation it is very difficult to go back and correct it.
Question: What tips could you add to my list?