This is Ukraine's deadliest week of fighting probably since WWII! The week isn't even over and the reports range from 70 to 100 dead!
I'm not sure how to put into words what is happening in Ukraine. Every morning I wake up and immediately check the news praying that the situation has improved, but it hasn't!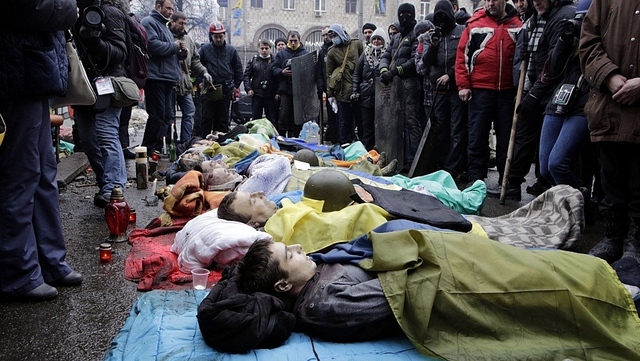 This morning Christina (my wife) shared with a women's group at a church we are visiting, she couldn't hold back the tears as she described the violence and unnecessary taking of life in her home country.
The conflict in Ukraine has escalated faster and farther this week than anyone could have guessed.
It' not just bricks
It's not just bricks and clubs any more, bullets are now flying on the streets of Kyiv.  The interior minister finally admitted that police have been armed with combat weapons and authorized to use them.
Of course there's violence on both sides but after Christina and I watched the videos of protesters being shot by police snipers we simply felt helpless and were overwhelmed with sadness for the Ukrainian people!
It's not just Kyiv
While the main action and violence is in Kyiv the crisis has spread country wide. Opposition groups have put of blockades on major highways around Ukraine trying to make sure that government reinforcements or "Titushkies" can't get through.
This week there was violence in many of Ukraine's larger cities including Odessa, where a group of Titushkies brutally attacked opposition protesters.
Ukraine is in upheaval and every Ukrainian feels it. This morning I received a message from one of our ministries partners, he said that he is so broken up over what is going on that he doesn't even feel that he will be able to get through his sermon on Sunday.
Why are we here?
Watching Ukraine fall apart from a distance is heartbreaking. We wish we could be there and put our arms around our brothers and sisters to comfort them as their once peaceful homeland is turning into a war zone.
But we can't be there!
For some reason God has placed us in the US for this time. Maybe in God's providence he put us here for our own safety.
Maybe God put us in the US so that we could be the voice of Ukraine in American churches! If that's the case then that's what we'll do!
What you can do
Although we feel helpless watching those youtube videos of protesters being knocked over by bullets there is something that we can do.
We can pray!
Christina and I invite you to join us in prayer and fasting for Ukraine this weekend.
Fasting and prayer for Ukraine
I know that fasting isn't something that most American Christians are used to doing but I also know that many of our brothers and sister in Ukraine will also be fasting this weekend and I believe it is important for us to stand with them and support them.
If you can please take at least 15 minutes each day this weekend to specifically pray for peace in Ukraine.
If you can fast, choose either Friday, Saturday or Sunday and let us know when you will be fasting. Christina and I will be fasting all day on Saturday, February 22nd.
Question: Will you pray and fast with us and with many Ukrainian Christians for peace in Ukraine this weekend?