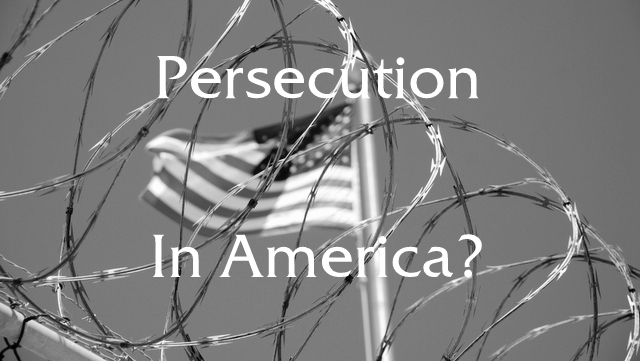 Persecution of Christians is still on the rise in Eastern Ukraine where Russian separatist have taken control. Just a few days ago in the city of Donetsk the separatist seized Donetsk Christian University along with about 20 staff.
For the last 23 years there really was not any significant persecution of Christians in Ukraine. In fact when people would ask me about freedom of religion and worship in Ukraine I would often tell them that one of the great things about Ukraine is that we don't have any government limitations on preaching the gospel and worshiping God.  In a way Ukraine has enjoyed more freedoms than the US has in the past 20 years or so.

However, for Crimea, Lughansk and Donetsk regions this freedom was lost much quicker than anyone expected! This has caused me to contemplate the freedom we have enjoyed for so long in the USA.
Let's be honest, persecution really has not come to the US yet. I mean we may worry about loosing our church's tax exempt status or getting laughed at for our antiquated beliefs but I don't think these qualify as persecution. On the other hand what is happening now in Eastern Ukraine, forced seizures of church buildings, abductions of church leaders who are then held captive and beaten for their faith, that's persecution!
If you want some great examples of real persecution versus fake persecution I highly recommend checking out a blog post by Benjamin Corey called Real vs. Fake Persecution: How You Can Spot the Difference.
Persecution of the church is something that will eventually happen in the US so my question is,
"When will real persecution come to America?"
After observing how and why persecution began several months ago in Eastern Ukraine as well as why there was persecution in Bible times here are five conditions that will eventually lead to persecution in America.
When the Church stops preaching prosperity gospel.
I've written here about the problems with the Word of Faith movement, which includes prosperity theology. As long as pastors are teaching their church members that real faith will lead to a comfortable and luxurious life there will be no persecution!
Or maybe I should put it this way, any persecution that does happen will quickly fizzle out because those who follow the prosperity gospel teaching will just as quickly compromise their faith to avoid the persecution. Prosperity gospel does not prepare believers for persecution but rather deceives them into thinking that if they have enough faith they will never experience persecution!
When the Church starts calling people to repent of their sins.
Biblically and historically persecution tends to happen around those who are clearly calling people to repentance! John the Baptist who preached "Repent for the Kingdom of Heaven is at hand" (Mat 3:2) was imprisoned and eventually beheaded as a result of this type of preaching.
People don't like to be called sinners or have their lifestyle condemned. That's why Jesus said that the world hated him and will hate his followers. (Joh 15:18) The problem in many churches today is that very little is said concerning sin and the need for repentance. On the other hand a lot is said about how to have a great marriage, how to raise kids, how to deal with finances, etc…
Honestly I think it's OK to preach a "How to" message from time to time but as long as our pulpits are filled with "How to…" and are devoid of "Repent and believe" there will be little persecution in America.
When the Church takes uncompromising stands on righteousness.
To some extent this is happening already in a few churches. Taking an uncompromising stance on moral social issues such as abortion, homosexuality, doctor assisted suicide, divorce, sex outside of marriage, etc… will eventually lead to persecution. The problem is that sin is a money making business for many and those who profit from it see the Church as a threat.
Paul caused a riot in Ephesus because of his strong teaching against idols! (Act 19:23-27) When society looses it's historical moral foundation churches will find it necessary to take clear stands on moral issues that they never would have dreamed would become controversial.
When there is a clear difference between the life of a believer and an unbeliever.
As long as believers blend in, go with the flow and look, think, and act like the rest of the world there will be no persecution! However when believers start transforming their minds (Rom 12:2) the result will be transformed lives that look much different than the world.
This difference will make us stand out and the more we stand out as followers of Christ the more likely it is that we will face persecution.
When we least expect it.
This is a lesson that I've learned in the past few months. How was it that Eastern Ukraine could go from complete freedom to preach and teach the Gospel to persecution in a matter of days? Pastor Sergey's story of being beat at the hands of city officials was a shocker for many!
It's easy to be lulled to sleep by the false perception that you will never face persecution. However, we are much closer to persecution that we think! Whether it happens today or years from now the lesson we need to learn from our persecuted brothers and sisters in Christ is that we need to be ready!
Peter says it best!
Beloved, do not be surprised at the fiery trial when it comes upon you to test you, as though something strange were happening to you. But rejoice insofar as you share Christ's sufferings, that you may also rejoice and be glad when his glory is revealed. If you are insulted for the name of Christ, you are blessed, because the Spirit of glory and of God rests upon you.
(1Pe 4:12-14)
Question: When do you think persecution will come to America?