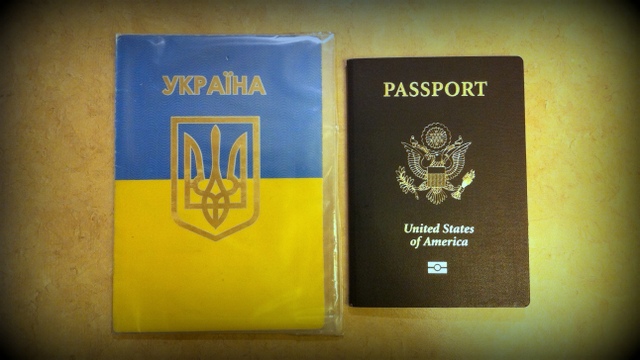 "Is life better in America?" The passport control officer asked me as I stood waiting for my exit stamp from Ukraine.
"Better?" I responded, "What do you mean by better?"
I continued, "For me it's better to be where my family is and my family is in Ukraine."
"For me life is better in Ukraine!"
It wasn't the first time a Ukrainian had asked me if  life was better in America. In fact I've been asked the question so often over the past 5 years that I crafted an answer which would point people to some important truths.
When people ask me if  life is better in America they assume that their definition of better and my definition of better are the same. That is why my first response is to ask them a question. "What do you mean by better?"
Better is not determined by how much money you have
In my experience with people money is often a big factor. The assumption is "If I just a had a little more money then my life would be better."
It's easy to fall into that trap ourselves. Money seems to resolve a lot of problems.  However, the reality is that money doesn't really solve the problems in our life, it just gives us more options. Those options often complicate our life and easily lead to greater problems.
Better is not determined by the conditions you find yourself in
Usually people are thinking of "the good life", like a great job, lots of free time, a bigger more beautiful home, a faster, shinier car, access to the newest technology and so on. If it's fun, if it's comfortable, if the movie stars have one then it must make my life better!
These things only affect the outward conditions of your life. It's not hard to find examples of movie stars and millionaires who ruined their lives with drugs, crime or committed suicide. They had the "good life" but the good life wasn't better for them!
To make life better you need to work from the inside out and not the other way around.
Better is determined by the people around you
This is usually what I start with when I explain to people my understanding of better. God built people for relationships. When you focus on building and strengthening the most meaningful relationships in your life, your life in turn becomes better.
For me my relationship with my wife and children are at the top of the list!
Better is determined by your attitude
Are you thankful? Are you joyful? Are you gracious? Are focused on the good of others? These are life altering attitudes and can immediately make your life better!
Better is determined by your values
Ultimately the "betterness" of your life is determined by the things which you most highly value. If you value the external and temporal like money, pleasure, and things you will always be disappointed. However, when you turn your attention to internal and eternal values you will find that your life can be better no matter what country you live in.
Question: How would you answer the questions? What makes your life better?