(This giveaway is closed. Congratulations to Elpida on winning the book! )
How do you define "Missions"?
What do you have to do to do missions?
What do you have to be a missionary?
The answer to these questions will determine many of the choices you make in your life and I want to hear those answers. I'm so interested in what you have to say that I'm giving away a copy of the book "Finish the Mission"
Please leave your answer in the comments below for a chance to win the book.
In the mean time take a look at the video below to find out what's going on here in Ukraine.
May is a month of missions for us!  Below are two missions events that we need your prayers for this month.
Mission to Moldova
On May 10th I'll be heading to the city of Faleshti, Moldova. We will be helping Pastor Vasilly train local church members for evangelism. Pray for safe travels for Misha and myself as we cross the border into Moldova. Pray also for success as we lead seminars in several locations.
Missions training
May 27 – 31 we will conduct a special missions course at our institute called "Kairos". This course is designed to help introduce students to different cultures and world views and learn to effectively communicate the gospel. Please pray that our students would be equipped for missions and inspired to serve Jesus in other cultures and countries. Pray also for the facilitators who will be leading the course.
Thanks for your prayers!
Last month we successfully led seminars in Lughansk and in Kirovograd. Our family also to traveled to Cherkassy and ministered in Christina's home church for Palm Sunday. We finally gathered our missionary team for a two-day conference in Kiev earlier this week. Thankfully, there were not blizzards to stop us this time!
We still haven't celebrated Easter!
If you are wondering why we celebrated Palm Sunday last week, you can find out here. This Sunday we will celebrate the resurrection of Jesus Christ with our church here in Odessa. Please pray for strong, clear preaching of the gospel and that God would bring repentance to many hearts.

Question: What is Missions? Give me your answer in the comment section for a chance to win "Finish the Mission".
"I have a problem, I like pornography!"
That short sentence brought a hush over the crowd. Some were shocked some didn't know what to think and others avoided my eye contact in the uncomfortable silence that followed.
Recently someone asked me to share some of my sermons online, however, I mainly preach in Russian while I'm here in Ukraine. I did however find, this is a sermon that I shared at my home church Discovery Baptist a few months ago.
Question: How is the sin of lust similar to worry? In what ways can worry destroy our lives? What  ways have you found effective in dealing with worry in your life?
Further reading
 Here's a great book I used in preparation for this sermon. MacArthur applies sound Biblical truth to the problem of worry and anxiety in our lives. 
Anxious for Nothing: God's Cure for the Cares of Your Soul (John Macarthur Study)
Have you ever dreamed about having a house on the water, a cabin in the mountains or maybe a cottage by a river. Why do you and I desire to live in such places? We know that the place we call home impacts just about every aspect of our life.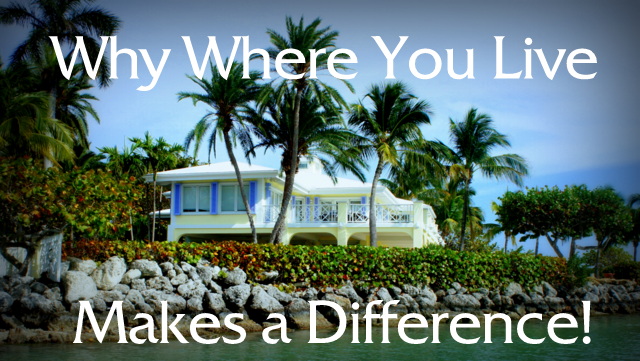 Where you live affects what you wear, how you speak, who you are friends with, it even affects how you feel about yourself and how you think!
Let me give you some examples of how your location affects your life.
Where you live affects what you wear
If you live in Alaska you're much more likely to have a closet full of coats, a pair of insulated boots and an assortment of thick gloves than someone who lives in the Florida Keys.
Where you live affects how you talk
When I moved to Ukraine in 2007 I immediately started learning Russian because I knew that in my new location no one would understand me unless I spoke it.  When I travel back to the US I quickly change back to English; my locations dramatically affects how I speak.
Where you live affects your outlook on life
Whether we like it or not we are all affected by the predominant culture around us. If you live in a pessimistic culture it will be hard to keep a positive outlook. If your culture values work over family, you'll probably struggle with that too.
Where you live affects your relationships
Although we may be more connected by technology today than ever we still tend to develop and maintain more relationships with the people who live and work with us.  This usually includes immediate family, neighbors, church members and coworkers.
Where do you live?
Are you living in your ideal setting? Are you living in a place that gives you ample opportunities to be successful and live out what God has called you to do?
If you're a Christian then you don't have to worry because you are already living in the right place!
Living in Christ
When the Apostle Paul wrote to the Ephesian church he told them that they had a new home and a new identity, they now lived "in Christ".  Eph 2:13 This new location affects every aspect of the Christian's life.
Paul is so intense on communicating what life in Christ is about that refers to it over 40 times in Ephesians! Here are a few things which Paul indicates are yours and mine as a result of living in Christ.
What do you have in Christ?
Blessings -Eph 1:3
Adoption -Eph 1:5
Forgiveness -Eph 1:7
Purpose -Eph 1:9
Hope -Eph 1:12
Holy Spirit -Eph 1:13
Faith -Eph 1:15
Strength -Eph 1:19-20
Life -Eph 2:4
Citizenship -Eph 2:12-13
Peace -Eph 2:15
Access to the Father -Eph 2:18
Family -Eph 2:19
Boldness -Eph 3:12
Maturity -Eph 4:15
Unity -Eph 4:16
Question: In what ways does "life in Christ" affect how you live today?
Yesterday I ate my lunch with a bunch of dead people in Moldova.
Why?
Because that's what everyone else was doing and I wanted to see how the people celebrate this holiday called "Pastele Blajinilor".
This was our view as we came around a corner on our way home from a few days of ministry in Moldova yesterday. Hundreds of people crowded into this small cemetery.
Families gathered around the graves of their loved ones and ate a meal, drank some wine and enjoyed the beautiful weather. For a donation the priest would come to the grave and say a prayer for the dead, a choir of about 10 voices followed him.
Although the Orthodox church does not "officialyl" recognize this holiday it is certainly not against it. This cemetery was on the territory of the local Orthodox church.
The families celebrate as if their dead loved one is with them, they laugh and joke. The food is laid out on the grave and any leftovers stay there. They also sprinkle wine from the bottom of their glasses over the grave.
Will you pray with me?
Pray for Moldova
Pray for people who don't know the hope that Jesus brings
Pray for churches to preach the truth gospel of grace
In honor of Mother's Day I want to honor the mother of my five children, Christina, for her unending love and devotion to our family and to God.
If you don't know Christina I suggest that you get to know her! You can start by listening to a bit of her testimony here. We are from two very different worlds but I'm thankful that God brought us together and has already given us 16 years of marriage and 5 children!
I thought there would be no better way to honor my wife than to do it with Scripture, so I decided to update Proverbs 31:10-31 to reflect contemporary life.
The text below is not a "translation" but rather an adaptation. You can scroll over the references to read the ESV translation of each verse.
Pro 31:10 An excellent wife who can find? She is far more precious than jewels.

Pro 31:11 Her husband has complete confidence in her, he has no regrets.

Pro 31:12 She is kind to him, and never says mean thing to him all the days of her life.

Pro 31:13 She sorts the laundry, and willing folds the clothes with her own hands.

Pro 31:14 She drives all over town for the best deals and loads her minivan with health food from the grocery store.

Pro 31:15 She slips out of bed before the sun rises to get the coffee going and make sure breakfast is on the table.

Pro 31:16 She finds time to get outside and make the yard look nice, she even plants a garden.

Pro 31:17 She works out and keeps herself fit.

Pro 31:18 She stays up after the kids are in bed running an online business.

Pro 31:19 She washes the dishes and keeps the kitchen sparkling

Pro 31:20 She generously gives to those in need.

Pro 31:21 She dresses her family well for every season.

Pro 31:22 She  loves to make her home beautiful; she has style.

Pro 31:23 Her husband is well known in the neighborhood, he is a leader at work and in church.

Pro 31:24 She sells her handmade crafts all over the world on Etsy.

Pro 31:25 She is poised and strong and has a positive outlook on the future.

Pro 31:26 She always knows just what to say and says it with kindness, she is a sought after teacher.

Pro 31:27 She works hard and keeps to a schedule, she doesn't waste her life on romance novels and Pinetrest.

Pro 31:28 Her children tell all their friends what a great mom they have; her husband praises her:

Pro 31:29 "There are a lot of great women, but you are the best!"

Pro 31:30 Glamour hides the truth and good looks are useless, but a woman who honors the LORD with her life is to be praised.

Pro 31:31 Complement her for all she does and tell others what a great wife she is!
Question: Who do you want to honor as a mother? How would you describe the contemporary "excellent wife"?
In biblical times there were few methods of communication to choose from.  If you needed to communicate something to a large audience your best option was to find a crowd and speak real loud.  You could also write, but few people could read, so your audience would be limited.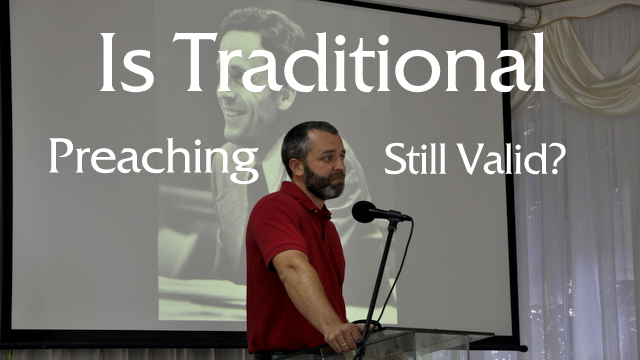 When I grew up church copy machines were becoming a big thing and if you wanted to reach a larger audience you could start a tape ministry. When we started putting the words to songs on the overhead projector a few members even raised objections.
Increased Options
The options for communication are so vast today that many churches don't know where to start, as a result some play it safe and by sticking closely to methods developed in the 1950s and 60s. Other churches jump head first into the sea of youtube clips featuring star preachers and spectacular music.
Increased Volume
This invasion of media did not start in the church but in society.  In contemporary homes most people consume a constant diet of TV, film, music and video clips. When they are not at home it is streaming into their ears and eyes via smart-phones and tablets. An information downpour soaks us all week-long!
Increased Interaction
Not only are you and I consuming media all week-long but we are also participating in the conversation. Facebook, Google+, Twitter and Pinetrest provide highly addictive interactive methods of communication, not to mention the online gaming community. Our minds are addicted to constant communication and instant information all fed to us in short bursts.
Here are the questions that you and I need to answer:
1. Does traditional preaching still have a place in our culture of massive media intake?
2. Should preaching change to meet the needs of a society addicted to soundbites and video clips? How?
3. Can/should traditional preaching be replaced by other forms of teaching like film, books, video clips?
Leave your answers in the comments below.
Read my other posts about preaching here.
Today Christina and I want to wish you a happy Resurrection Day! This morning we celebrated Easter at our home church Hope for People here in Odessa, Ukraine. It's at times like this that I really love the name of our church, after all Jesus' resurrection does give true and lasting hope for people!
Last night my mind was so active, thinking about the resurrection that I had a hard time sleeping. At 4am I woke up and walked out into our balcony to look at the usually empty street below. However, to my surprise I saw dozens of people headed to the Orthodox temple, with baskets containing bread, sausage and vodka for the priests to bless!
Over the past few years it has become increasingly popular to celebrate religious holidays like Easter, Christmas and Ascension Day. Unfortunately the popularity of religious activities will never change the condition of the human heart.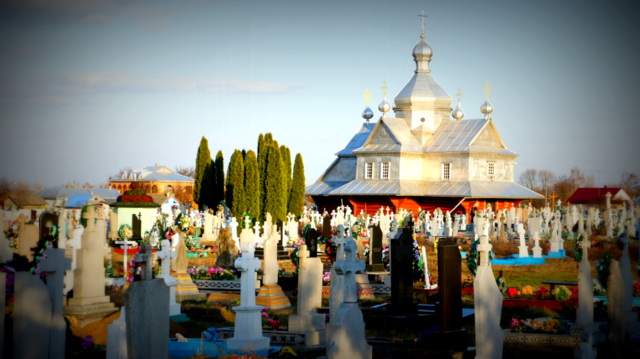 Religious ceremony may temporarily make us feel better about ourselves but it will never make us better.
We need something more than rules and liturgy, we need a solution that reaches into the depths or our souls and exchanges our corrupt nature with a new nature that pleases a holy God.
Today is Easter and just about everyone you pass on the street will greet you with "Jesus has risen" and the response, "He has risen indeed!" It is a wonderful greeting that rings with the truth upon which hinges the entire history of mankind.
The problem is that you and I can speak words of truth and yet fail to repent and believe.
Words, even true words without faith are nothing more than empty religion. When these hollow words connect to the motions of "worship" you end up with a religion which prescribes medicine for the symptoms of sin when what you need is Jesus who cures man from the source of sin!
Without true faith Jesus doesn't save and without Jesus the Holy Spirit does not change our hearts and enable us to do the good works God has called us to do.
Without the Holy Spirit's  work our attempts at righteousness will produce little more than a moral recipe for religious failure.
Today is Resurrection Sunday and I'm checking my heart to make sure that my words match my faith! I am also reminding myself that Jesus came to free us from empty religious activity and in its place give us a living relationship with a holy God.
There is hope for people and his name is Jesus!
Question: How is the resurrection of Jesus impacting your life today?
Did the Holy Spirit come late to the party? Why does it seem like he doesn't do much until you get to the New Testament?
Read the Gospel of John and you will find the Holy Spirit intimately involved in every aspect of Jesus life.
Read the book of Acts and you'll see the Holy Spirit sparking the start of the church.
Read Paul's letter to the Ephesians and you'll find the Holy Spirit sealing the believers and providing them with a sword.
But where is the Holy Spirit in the Old Testament?
Truth is the Holy Spirit doesn't just suddenly appear in the New Testament. He is seen from the beginning as being involved in the works of God and with the people of God.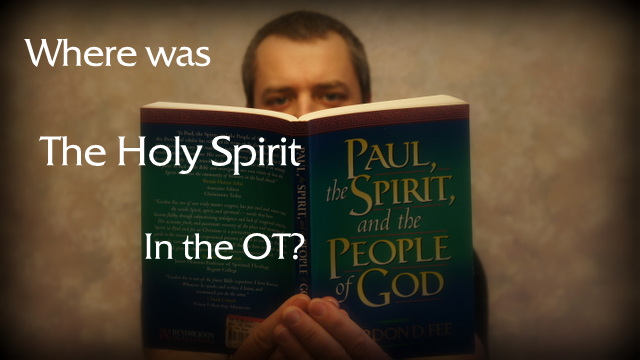 Check out the other posts in this series on the Holy Spirit here.
He created the universe
We don't have to read much of the O.T. to find the Holy Spirit. The second verse in the Bible gives us our first glimpse.
And the Spirit of God was hovering over the face of the waters. Genesis 1:2
Yes, the Holy Spirit was intimately involved in the creation of the universe. He created a universe with awe inspiring beauty, intricate design and overwhelming scale showing his intelligence, power and creative ability.
What do you think of when you view creation? Are you baffled by God's power, his grand design or his skill as an artist? For the New Testament believer the grandeur of creation is even more marvelous when we understand that the Holy Spirit who brought everything into existence now lives in us and works personally in our lives! I Corinthians 6:19
He opposed sin
One of the Holy Spirit's main roles in both Old and New Testaments is working with and in people. Again we don't have to read very far to see this happening.
Then the LORD said, "My Spirit shall not abide in man forever, for he is flesh" Genesis 6:3
The Holy Spirit is called "holy" for a good reason. The term "holy" communicates three primary meanings.
Otherness: He is separate from the creation because he is the creator, he is unlimited , we are are limited, he  knows all, we know little, he is great, we are not!
Special: He is special because he posses character traits and abilities that we do not have. He is unique because he is God and demands our worship.
Purity: He is morally pure, he sets the standard for morality, he convicts man of his impure heart and he changes and purifies man's heart as he works in the life of believers.
He cleansed from sin
In the O.T. the Holy Spirit worked in the lives of individuals to convict them of sin and to purify them and bring righteousness into their hearts. David comments on this when he says:
Create in me a clean heart, O God, and renew a right spirit within me.
Cast me not away from your presence, and take not your Holy Spirit from me. Psalm 51:10-11
The work of the Holy Spirit was so powerful in the lives of Joseph and Daniel that it was evident even to observant unbelievers! Genesis 41:38, Daniel 4:8
He enabled people
The filling of the Spirit doesn't only happen in the New Testament. The Holy Spirit filled individuals to help them carry out certain tasks.
He enabled Bezaleel to construct the tabernacle. Exodus 31:3
He enabled the elders of Israel to lead. Numbers 11:17
He enabled Judges to judge. Judges 3:10
He enabled prophets to prophesy 1 Samuel 10:10
He enabled David to rule as King 1 Samuel 16:13
So What?
How is the work of the Holy Spirit in the OT significant for you and me today? Three truths strike me hard as I pursue this study.
Truth #1
While the Holy Spirit's activities may change from OT to NT he remains the same! The same God who spoke Earth and Jupiter and Mars into existence now lives in me, fellowships with me and is shaping my life from the inside out! This simple realization is a life changer that we often fail to comprehend!
Truth #2
The Holy Spirit really cares about personal holiness. I know it sounds almost dumb to say that but we desperately need to hear it! He is called the "HOLY" Spirit, not the "unconcerned, anything goes, fuzzy standard, morally relative, laid back, have it your way" Spirit.
Truth #3
A true understanding of the holiness of God should be unsettling to us but we are encouraged when we realize that one of the primary roles of the Holy Spirit has always been working in the lives of people.  The Holy Spirit worked in the lives of OT believers to bring purity and holiness. He also gave them strength when needed to perform practical tasks like building, leading and speaking.
I find great encouragement in the fact that the Holy Spirit is actively working in my life today!
Question: How do you see the Holy Spirit working in your life today? What is he convicting you of? How is he changing you? What is he enabling you to do?
Further reading:
Check out these Scriptures: Numbers 24:2,27:18; Daniel 4:8; Ezekiel 36:25-27; John 14:16-17.
Consider picking up a FREE copy of The Person and Work of The Holy Spirit
Last week our family visited the church in the village of Buyalick. There are no paved roads leading to Buyalick so when it's dry enough the best way to get there is by traveling across the fields on makeshift dirt roads.
On our way home we dipped into a small green valley and as we rounded the corner came upon a large flock of sheep. As we slowly approached the grazing flock one of my kids exclaimed "Oh gross!"
At a distance the flock of sheep looked white but we soon found out that was far from the truth. From the lower half of each sheep hung large clumps of wool caked with soil and feces. They were not all fuzzy and cuddly like you see in the Bible story books!
I realized this was a teachable moment for my children and told them, "Can you believe the Bible says that we are all like sheep and God still loves us?"
A Self Inflated Culture
Society teaches us that we need to raise our opinion of self, that we are better than we think, that we are worthy of more. Here's a recent post on Twitter from the Queen of self-esteem, Oprah:
Only make decisions that support your self-image, self-esteem, and self-worth.
A Self Infatuated Church
The cultural message of self magnanimity has already thrust its way into the pulpits of our churches. Take for example Pastor Joel Osteen whose books are consistently at the top of the Christian best-seller list.
You don't have to do much more than read a list of his recent book titles to see the emphasis on self greatness and personal worthiness.
In his book Your Best Life Now Joel Osteen puts it this way:
You must learn how to cast down those negative thoughts and begin to see yourself as God sees you-as a winner, an overcomer. He sees you as being "well able." If you want the circumstances to change for the better in your life, you must first see them changing through your "eyes of faith." You must see yourself as happy, fulfilled, and successful, living an overcoming life.
A Biblical Picture of Self
The Bible paints a different picture of mankind. One common illustration of man is that of a lost sheep.
Isaiah 53:6
6 All we like sheep have gone astray;
we have turned—every one—to his own way;
and the Lord has laid on him
the iniquity of us all.
Comparing us to sheep is not flattering. Sheep are dirty animals, they are of low intelligence, they are weak and defenseless and if left on their own would not survive for long.
The overwhelming message of the Bible is that man needs to lower his opinion of self and raise his opinion of God. That's what the prophet Isaiah was talking about when he said:
Isaiah 40:15
15 Behold, the nations are like a drop from a bucket,
and are accounted as the dust on the scales;
behold, he takes up the coastlands like fine dust.
Thankfully we have a loving Shepherd who picks us up an carries us in his arms Isa 40:11.
He loves us not because we are so great but because he is so great, not because we are worthy but because he is worthy, not because we have convinced ourselves that we are overcomers but because he has already overcome everything for us!
Question: How does our understanding of who God is affect our concept of self?
If you feel comfortable with your faith you might want to stop reading this blog post now! I'm just giving you fair warning!
I was convicted today, convicted of idolatry! It seems a little scandalous to write that but it's true. Today was one of those days when Christina when off to work and I got to stay home with the kids. I decided to use my time wisely and listen to a few sermons while I did the dishes and got the kids' lunches ready.
I didn't know what I was in for!
The first sermon I decided to listen to was from Timothy Keller called "The Gospel and Idolatry" from Acts 19:23-41.
Keller starts by showing how when Paul preached the gospel he always confronted the people's idols. He said that it is really impossible to accurately preach the gospel without exposing and knocking down idols.
He identified three major types of idols:
Personal idols

Religious idols

Cultural idols
You can probably guess which of those three hit me square in the face RELIGIOUS!
Now, please take at least 5 minutes to listen as Timothy Keller explains what religious idols are and why they are so dangerous.
For the part on religious idols start the video at 36:30.

If you have time I highly recommend going back and listening the first half of this sermon.
Keller explains
An idol is some good thing you're looking to as more crucial to your value and your security and your meaning in life than God is.
He identifies three areas where religious people often find their idols;
Truth

Gifts

Morality
As I listened to this sermon I was tempted to shut the computer down and go work in the other room so that I wouldn't have to deal with my idols!
Ministry as an Idol
Here's the point, as a minister I can easily turn my ministry into an idol. I can put preaching, teaching, doctrine, holy living and how many people attend my church on a pedestal above God! Unfortunately when these things become my ultimate end they will always let me down.
My experience tells me that the danger in making ministry an idol is far greater than we often realize. The question that every pastor and preacher need to constantly ask themselves is
"To what God am I bowing my life to?"
Identifying the Idol
As Keller mentions the problem is that we are often not very good at examining our own hearts. He suggests asking a question to help identify the idols in our life.
What could I not live without?
Would you be able to go on if you lost your ministry, your family, your house, your appearance, your mobility?
Replacing the Idol
We will never succeed in destroying our idols unless they are replaced by true worship of the true God. It's not enough to simply exert our will power and force ourselves to stop worshiping these false God's. The only thing that can destroy false worship is true worship.
Questions: In what ways do you think ministry can be an idol? What are some other good methods to identify idols in our life?

For further reading you should check out Counterfeit God's by Timothy Keller.