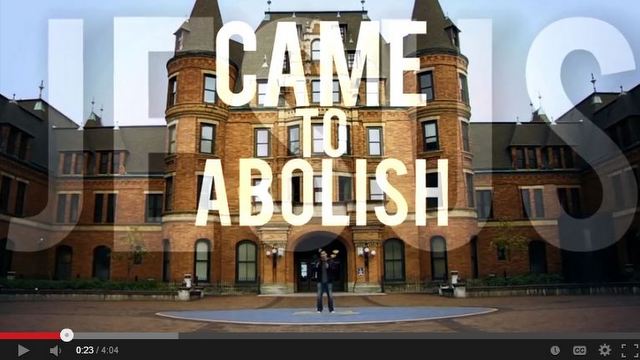 Every once in a while there comes along a book that shakes the comfortable walls you've built around yourself to the ground.
This is one of those books!
(If you don't want to waste your time reading this review you can skip it and buy the book here)
Like 25 million other people I learned about Jefferson Bethke in early 2012 when he published his powerful poem on YouTube "Why I Hate Religion but Love Jesus". Check it out below if you haven't already seen it.
Bethke's poem brings to light the stark differences between the Jesus of the Bible and the religion that Western culture pushes.
I liked the video for two reasons;
1. His message about Jesus was true and life changing!
2. He filmed the video at Stadium High, a 10 minute walk from where I lived for 7 years while attending seminary!
I've read the book and it's good!
Thank you Thomas Nelson Publishing for the pre-release copy!
I want you to read the book too, so here are 5 great reasons to buy the book.
1. It will inspire you even more than the video to live unashamed for Jesus
"But you start investigating and pushing into this guy from Nazareth who lived two thousand years ago, and you will get somewhere. You will have to face up to who he is, what he has done, and what you will do about it." Page 35
The video gives you a small taste of what this book is like.
It's not a theology textbook but it opens up some deep theological truths.
It's not a pep talk but it will get you excited about Jesus.
It's not a self-help manual but you'll find truths in it that can and should change your life.
2. It will change your perspective on religion
"All the other religions center on people's righteousness— what we do and how good we are. Real Christianity centers on Jesus' righteousness—what he has done and how good he is." Page 28
Bethke hits hard on "religion" in this book. He shows how much of American thought has changed Jesus' message from one of freedom and grace to one of law and works. He breaks down these false patterns of thought and shows how religion is hopeless and lifeless compared to what Jesus has to offer.
3. It will help you understand how Jesus and the Bible aren't "safe for the whole family"
"We have completely neutered grace (my good works save me, but we still call it grace), made God a math equation (God will like me if I'm good), and turned Jesus into Mr. Rogers ("Howdy, neighbor"). But Jesus isn't rocking a cardigan, and he doesn't talk softly through his nose. He's a roaring lion." Page 12
Many people claim to know Jesus, many think they understand his message but Bethke breaks the mold of Western culture and shows how Jesus is not only a Savior but also a Judge. He's not "ok" with your sin, he wants you to be holy and he's got the solution!
4. It's a message that can change our culture's false views of Jesus and salvation
"Some people think, I got saved when I was ten, so Jesus is my homeboy, right? Well, yes, but probably not in the way they mean it." Page 49
The truth is Jesus never asked people to raise their hands while everyone's eyes were closed, he never said "repeat this little prayer after me and you'll be saved".  Jesus called people to believe. He called them to believe in a way that would later be evident in their life.
5. You can support us by buying the book!
Imagine, you get the blessing of this awesome book and you can bless us at the same time!
Yes, we get a generous commission from Amazon if you buy the book after clicking on any link in this blog post! Actually we will get a commission on anything you buy from Amazon so go wild and get a bunch of books!
The more people who buy it now the more likely it will be to make it to #1 on Amazon. That's important because that means Amazon will promote it and more people will see it and hopefully buy it.
This is a message of truth that America needs. I'm excited to see how it will impact churches and especially youth!
Question: In what ways is Jesus as greater than religion in your life?