Ukraine's war in the East seems to have jumped across the country sparking a fierce and deadly shootout in the far Western city of Mukachevo last weekend between two paramilitary groups and Ukrainian police.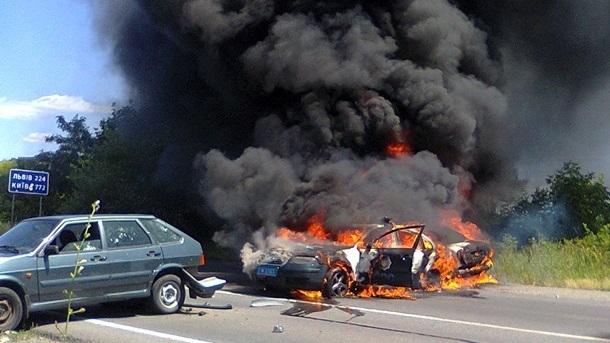 This outbreak of violence was followed by two terrorists bombings of police stations in the Western Ukrainian city of Lviv.
These tragic events remind us that things are not under control yet in Ukraine, there are still groups of lawless bandits who will not stop at anything to get what they want. While the battles in Eastern Ukraine continue to drone on the rest of Ukraine shouldn't allow themselves to think that the fighting will stay confined to the Donetsk/Lugansk regions.
Ukraine is a country at war, although some places, like Odessa, may have a very peaceful aura about them the threat of new violence ominously hangs over all Ukraine like a dark cloud.
This past Sunday Christina and I were also reminded of the ongoing battles in a few different ways. On my walk to church in the morning a procession of military vehicles and Ukrainian soldiers greeted me.
After I preached, Christina and I went out to a sanatorium where about 140 disabled refugees from Eastern Ukraine have lived for the past year. We shared our testimonies with a small group and opened up God's Word with them too. Most of them are unbelievers, yet they listened with interest and asked questions too.
They also shared with us their longing to return to their war-torn homes and the lack of hope that they would ever really be able to go home again.
It was again a reminder that the war in Ukraine has many casualties, most of which are innocent civilians!
However, there is another battle and another war which has many more casualties and longer term and farther reaching consequences. I'm talking about the spiritual battle!
It's often difficult for us to comprehend the significance of the spiritual battle. We don't hear the pop, pop, pop of AK-47's and we don't feel the rumble of artillery shells landing. Yet, if we open our eyes we can see the destruction and carnage which the battles leave behind.
We see it in divorce when families are destroyed by selfish desires and sinful habits.
We see it abortion when babies are destroyed by medical professionals with no regard for the sanctity of life.
We see it pornography when the lives of young women are destroyed by rape and slavery.
We don't have look far, the battle is raging somewhere near us, the battle is raging somewhere in us!
Paul says it best:
For we do not wrestle against flesh and blood, but against the rulers, against the authorities, against the cosmic powers over this present darkness, against the spiritual forces of evil in the heavenly places. Therefore take up the whole armor of God, that you may be able to withstand in the evil day, and having done all, to stand firm.
(Eph 6:12-13)
I also like how Paul ends this section on spirit warfare by asking for prayer.
praying at all times in the Spirit, with all prayer and supplication. To that end keep alert with all perseverance, making supplication for all the saints, and also for me, that words may be given to me in opening my mouth boldly to proclaim the mystery of the gospel,
(Eph 6:18-19)
I'm convinced that prayer is one of our greatest weapons in the spiritual battle and probably the one we ignore the most.
So here's my request for you today.
Will you pray that God would give us the opportunity to proclaim the gospel?
Will you pray that God would give us the boldness to open our mouths and clearly communicate the hope we have in Jesus?