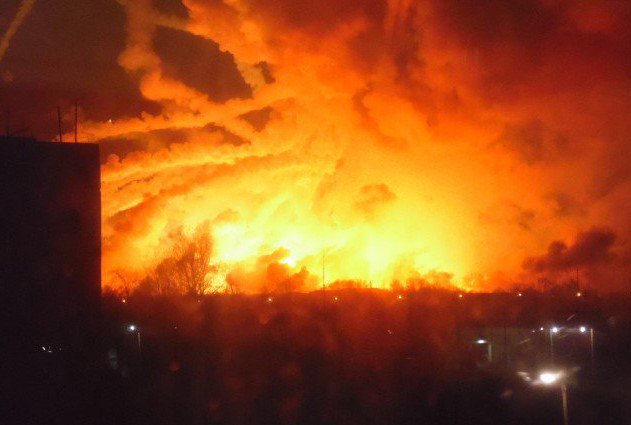 At 3:00 am on Thursday March 23rd the largest ammunition storage in Ukraine located in the town of Balakleya erupted into an enormous and destructive explosion. Sabotage by the enemy is the suspected reason for the explosion.
Pastor Pavel Minaev share this report:
"Brothers, peace to you.
Today at 3:00 AM the ammunitions storage within the city limits of Balakleya burned. It is the largest military arsenal in the country. They say this is the work of a saboteur. They are evacuating people from 50 kilometers from the zone.

Our church, "Gospel Light" is within the evacuation zone. Pastor Aleksander Salfetnikov is working to help evacuate families from his church there along with other brothers. Many fire trucks from Kharkov on are their way but as of yet it's impossible for them to even get into town and they are just sitting on the road. Bullets are whistling and rockets are flying. It is hell. There is much destruction. The town is in shock. We ask you to pray for the mercy of the Almighty. Pray for God's protection of the Church of Christ. Pray for wisdom and strength from God for the brothers!"
I personally know brother Aleksander Salfetnikov, he is a good and faithful brother in Christ! Please pray for him and his church as they deal with the destruction caused by this explosion in their town.
Mar 23 10.00 am: Currently the fire continues and ammunition can be heard exploding constantly. As a result government forces are desperately trying to evacuate all residence in a 50 km radius from the epicenter. This includes 3 towns and nearly 20,000 inhabitants.
Mar 23, 11:11 am: Reports of damage in the town coming in and photos from soldiers.
Mar 23 6:59 PM: To get an idea of how huge and long this series of explosions was going on here is a compilation from different views and different times of the day today.
Mar 23, 7:10 PM: Officials say that the fire is still burning out of control and only about 50% of the ammunitions have been exploded. It may be a week before they can successfully put out the fire.
Mar 24, 11:41 pm Officials say the fire has been put out in Balakleya video from the destruction zone is now emerging.
The consequences of fire in Balakliya https://t.co/gBy1JaxG5J via @Polk_Azov pic.twitter.com/a4ktpJUq1O

— Liveuamap (@Liveuamap) March 24, 2017
Mar 28, 9:00 am Residence are now returning to Balakleya.
Mar 28, 11:00 am Specialized bomb squad works to clear undetonated munitions.
Mar 29, 10:45 am I talked with Aleksander Salfetikov, pastor of Light of the Gospel Church in Balakleya. He told me,
"The whole thing was very frightening, people hid in their basements but they were too scared to stay there, the earth was shaking without any pauses between the blasts. But I truly saw God's mercy in all of it, it could have been worse but God had mercy on us."
Two rockets hit their church building causing damage to the roof and some of the exterior. All the windows were broken as was the case for many buildings in town. 10 families from Gospel Life Church had significant damage to their homes and 1 family's house was completely destroyed by the explosions.
All though residents have returned there is still an occasional explosion from the munitions storage area but nothing like it was a few days ago.  There is still no gas in town and many are without electricity. As a result Gospel Light Church is feeding up to 700 people a day in their church.
Pastor Aleksander also shared with me:
"It was a great help and encouragement to hear that so many people were praying, it really made a difference!"
A big "Thankyou!" to all who have donated to our Ukraine Crisis fund, we have already been able to help the people of Balakleya through that fund.
---
Note: Please check back as this post will be updated regularly with additional information.