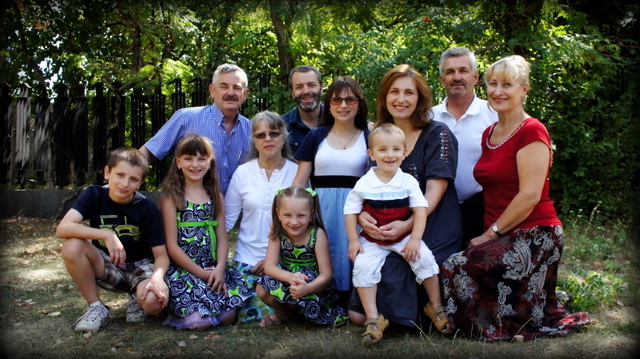 Have you ever thought about having a few more kids?
I'm convinced that bigger families are better and when I say bigger I mean at least 3 children.  Not long ago I wrote a post called  20 Benefits of Having a Bunch of Kids, check it out for a few more reasons.
Puppies vs people
It always amazes me when I learn that a couple has decided to only have one child or worse yet the couple decides to buy a puppy instead!
Puppies and people are not the same! Unfortunately the feelings and reasoning that go into the decision to buy a cute little wet nosed Schnauzer is often the same approach taken by perspective parents.
I'll admit there are some similarities to puppies and children, after all both are cute, both are great for snuggling, both are playful and both have a tendency to make stinky messes in the house but that's where the similarities end!
If you're a perspective parent thinking about having a darling child who will fulfill your urge to snuggle as you watch your favorite TV shows every evening, you need to stop now! Maybe a Schnauzer would be a better choice for you!
On the other hand if you have a more realistic conception of what parenting is, I want to offer you a few reasons why you should have more children.
A big family is better for you (but not in the way you think)
Here's the deal, kids force you to do things you'd never do otherwise and the more you have the greater the effect!
It's hard to remain selfish or proud when your constantly wiping someone else's nose and uh…. well you know where I'm going with this!  I can't tell you how many times I've had to put aside my pride while my child screamed in a public place or did some other humbling behavior.
My children also stretch my faith. We trusted the Lord more than ever when our 1 year old was diagnosed with cancer. These are unpleasant times and yet precious times.  The Lord shows us that even as parents we still have a Father who takes care of us!
Most of all my children teach me that I'm not perfect and that we are all learning together to be better children of our Heavenly Father.
These are all lessons that I never expected to learn and may not have learned if it weren't for the 5 blessings God has given me!
A big family is better for your children
Children don't do well on their own. They need parents and they need other children.  Learning to live with others is a vital life skill.
A house full of children means that every child must learn to get along, must have responsibility and must cultivate communication skills.  There's far less chance that any one child will be the center of attention. Children learn to share bedrooms, clothing, toys and food! They don't expect the world to be given to them on a platter!
There are too many parents who limit family size because they feel that every child needs their own bedroom. This is a terrible way to prepare your child for marriage where they'll most likely be sharing not only a bedroom but also a bed!
In the long run children who grow up in large families have a much easier time adjusting to real life outside the home and they're better prepared for marriage and starting a family of their own.
Question: Did you grow up in a big family? What are some other benefits of having 3 or more children?