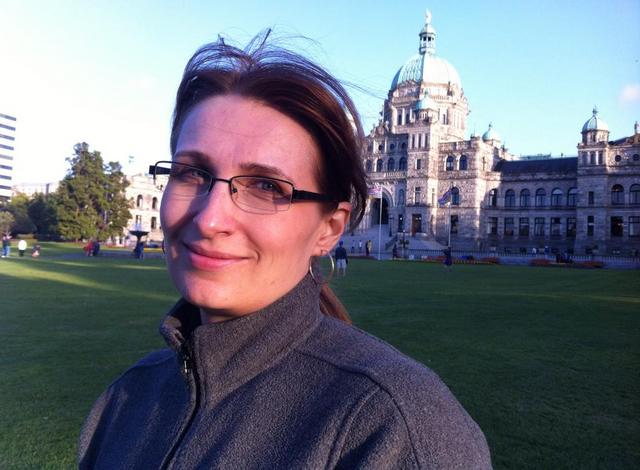 This month Christina and I took an overnight trip to Victoria, BC to celebrate our 17th wedding anniversary.
While we were walking around the harbor I snapped this candid photo of Christina with my phone.
I uploaded the photo to my Facebook wall with this description,
"Celebrating 17 years with this girl today!"
To my surprise within a couple of days it chocked up over 200 likes! When I noticed that it was getting a lot of likes I showed it to Christina and said,
"Can you believe how beautiful you are? Look at all the likes people are giving the photo of you!"
It was a moment that would have made any husband burst with pride. I mean, I know that Christina is beautiful and finally the rest of the world is realizing it too!
But then I began to think about it. Did my wife's photo really get all those likes because she's so beautiful?
Certainly she doesn't look bad in the picture but this isn't glamour shots, I mean she doesn't have make-up on or an amazing outfit. She's simply wearing a content smile, hoop earrings and her favorite fleece jacket!
So if it wasn't because of sheer beauty, then why did the picture get so many likes?
Let me come back to that question later.
You see this photo also made me think about myself. When I married Christina 17 years ago I was attracted to her. Her face pleased my eye and her physical presence could make my heart pound and my mouth dry! We were both 19 years old on our wedding day, young and knowing little except that we were in love!
So Christina was 19 and beautiful when we married and now five kids and thousands of poopy diapers later her beauty has not faded nor has my attraction to her waned, not even an inch!
The truth is I'm far more attracted to Christina today than I was 17 years ago when I looked into her teenage eyes and recited my vows!
What's my big secret?
Here's what I've learned about attraction and I want to share with you. Please read the next sentence very carefully!
Attraction has little to do with physical beauty and everything to do with values!
That's it, that's my secret and that's why I'm more attracted to Christina today than I was 17 years ago or even than I was last year.
You see it's really our values that determine what we are attracted to.
Do you value cars? Then you'll be attracted to cars, whether it's restoring an old car or purchasing a new luxury car, that's what you'll be attracted to!
Do you value sports? Then you'll be attracted to anything that has to do with your favorite sport. You'll probably make time to play that sport and buy sports equipment and make plans to watch the championship game with your friends.
Do you value entertainment? Then you'll be attracted to the latest movie that was just released or invest in a larger TV or a better speaker system.
Too often after seven or eight years of marriage spouses begin saying that they "fell out of love" that they're just not attracted to each other any more  and other garbage like that!
So let me tell you the truth about why those men are no longer attracted to their wives. It's because their values are messed up! They probably went into marriage assuming that their physically beautiful and attractive wife was going to always fulfill all their emotional and physical needs and urges!
Most likely their highest value is themselves and their own pleasure. As soon as they realized that marriage means self-sacrifice and putting aside what you want so that you can serve your wife and your family they grow discontent.
Discontentment kills attraction!
It blurs the vision and turns even the most beautiful wife into an unattractive woman. Make-up, designer clothes and diets won't help in this situation. Attraction may start on the outside but it will only continue if we cultivate it on the inside.
Ultimately what we are attracted to finds it's roots deep in our heart. So men, if you're highest value is physical beauty you will eventually lose attraction for your wife. However, if you learn to value her as God values her then you have a chance of not only keeping that attraction but also making it grow.
I'm attracted to my wife today more than ever because I choose to value her second only to God in my life! She is my priority, my passion, my pursuit! I value her for who she is and I can tell you that she's much more than just a beautiful face (although she is that too!)
I value her heart and my desire is to see her grow strong in her faith.
I value her mind and seek to give her opportunities to learn and grow.
I value her emotions and do my best to comfort her when she's sad and laugh with her when she's happy.
I value her body and work to ensure that the she is healthy and well taken care of.
I value my wife and that is why I am attracted to my wife!
Now that brings me back to what I started with, Christina's photo on Facebook. I don't want to put words in people's mouths but I think those 200 plus people who "liked" Christina's photo liked it not just because Christina is so amazingly beautiful.
I believe they liked it because of their values! They liked it because they know and value Christina. They liked it because they valued that we've been married for 17 years. They liked it because they saw the beautiful contentment of married life in Christina's smile!
Question: What do you think creates attraction in a marriage?