I don't look forward to checking the news on Ukraine any more but I do it anyway with my eyes half-shut anticipating more bad news, more unrest and more violence.
Unfortunately today was no exception. The only difference was that the bloodshed was much closer to home this time!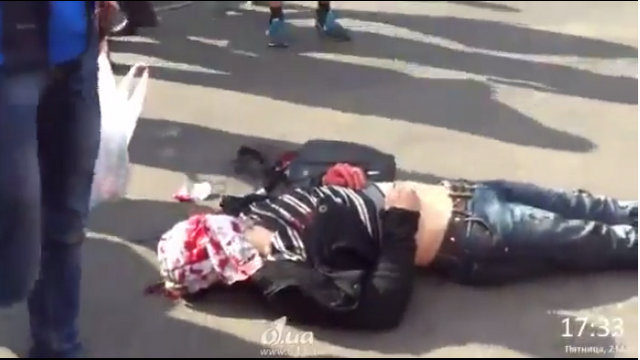 Fighting kills least 4 in Odessa
At least 4 were killed as pro-Ukraine marchers clashed with Russian separatist in downtown Odessa.
These are the streets of our home town!
While it's still unclean at this point it looks like those who died may have been killed by gun fire coming from the pro-Russian separatist.
In response to the attack the pro-Ukraine group went to the separatist camp and burned their tents and then proceeded to set the Trade Union house on fire where many of the separatist were hiding out. Early reports say that nearly 50 died in the fire.
The Ukrainian government has stepped up its "anti-terrorism" campaign in Eastern Ukraine and the separatist have responded violently.
Today 2 Ukrainian army helicopters where shot down outside of the town of Slavyansk. Reports are that they were shot down with surface to air missiles.  This doesn't look like the work of regular people who oppose the Ukrainian government. It is a well organized and well armed group.
As a sign that worse things are yet to come in Eastern Ukraine the self proclaimed mayor and separatist leader of Slavyansk asked women, children and elderly to stay in their homes for their own safety.

The separatist have made it clear that journalists and those who disagree with them are at risk when they come to Eastern Ukraine. The propaganda war is in full swing.
Will there ever be peace?
Sadly right now political peace seems to be a long way off for Ukraine!  However, no matter how far off it seems we have been given the task to bring peace and we must be faithful to our task.
Ultimately there is only one leader who can bring true peace to all Ukrainians and his name is Jesus!
And he came and preached peace to you who were far off and peace to those who were near. Eph 2:17
Something you can do
Download the printable half sheet prayer guide for Ukraine here.
Print it out and use it as an insert for your church bulletin this Sunday or for your Sunday school class or small group.