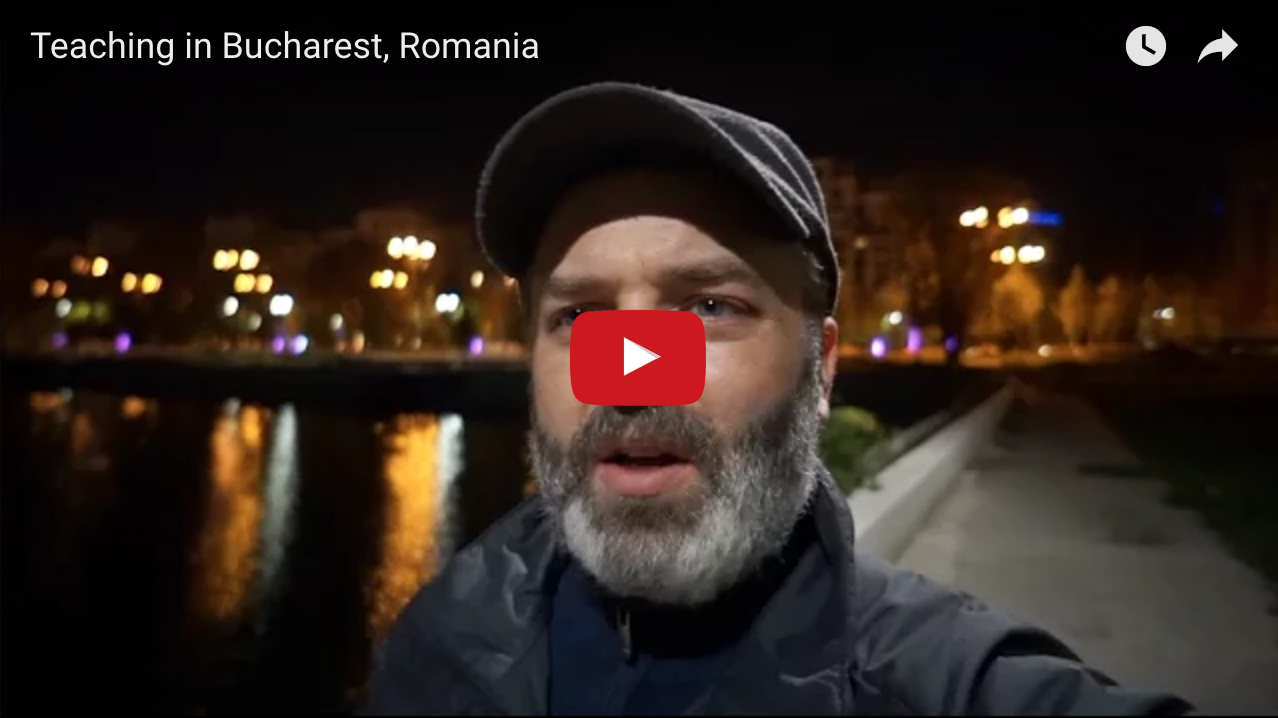 Recently I talked with someone who grew up in the church, went to Sunday School every week, and knew all the right answers to the regular questions asked, but one thing surprised me and left me wondering what on earth are our churches really doing when it comes to Bible teaching.
This person knew a fair amount of classic verses, like John 3:16, Romans 6:26, and Proverbs 3:5-6 but when I asked some simple questions about the books in which these verses are found he just stared at me like a deer looking at the headlights of an oncoming car.

Recently I taught our chronological Old Testament class "Roots of Faith" in Bucharest, Romania.
---
It got worse! When I asked some simple questions about how those verses are related to some of the history in the Old Testament his eyes almost fell on the table. Sadly, the Sunday School system of his church had failed him. Unfortunately I don't believe his situation was unique.
In general our Churches and our Sunday Schools are good at getting kids to memorize key verses (and that's not a bad thing!) They are also good and telling a limited number of interesting stories, even if they do get "dumbed down." Where our churches often fall short is in giving people an overarching view of the story of the Bible. What we have not done well is taught people who one Bible book builds upon another, how they interact with each other and flow together to make one grand divine story of salvation!
Instead of a fully assembled car that is ready to drive our people get a few jars full of various nuts and bolts and a box or two of fenders. That all might be very interesting but in the end it's not very useful! And that's why I believe the Church desperately needs chronological Bible teaching!
In order to really convince you of this let me know give you a few reasons why chronological Bible teachings is needed in your church. If you missed my first post on this a few months ago, you can find it here.
In my experience most church members spend 90% of their time studying a relatively small portion of God's Word that consists of a few favorite verses and Bible stories. Chronological Bible teaching helps them get out of that rut and forces them to look at unfamiliar but very useful passages.
The Bible was written chronologically and so naturally flows in that order.
It helps believers to gain a better understanding of how the Old Testament and New Testament interact with each other.
It gives a clearer picture of God's salvation plan and thus aids believers in more effectively sharing the Gospel.
It helps believers to balance God's grace and justice as they see his response to see throughout Biblical history.
It helps place certain books, especially in the Old Testament, in their proper historical context.
It gives you a better appreciation for prophecy as you see how precisely it was fulfilled.
Question: What other reasons can you think of?