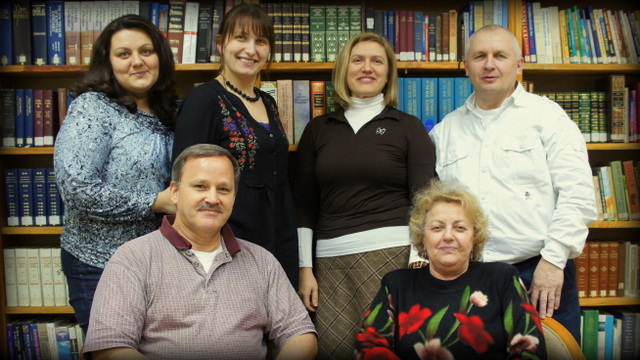 In case you wondered what Christina does in her spare time when she's not homeschooling 4 kids, here it is!
Knowing three languages fluently makes Christina a valuable resource on our team of missionaries ( I have a hard enough time with two!).  Christina is part of a team of translators who are working on the final editing of an important resource for a new ministry here in Ukraine.
For the past few months this team of translators has been working hard to finalized the Russian version of Self-Confrontation: A Manual for In-Depth Discipleship This will be one of the core tools used for the pro-life ministry that starting here in Odessa, Ukraine.  
There is certainly a need for this type of ministry in Ukraine. It is ministry that can give local churches the opportunity to reach out to their communities in a real and hopeful way. Providing young women with Biblical counsel, personal comfort and eternal hope, what can be better than that?
Here is what our teammate, Holly Friesen says about the situation on her website.
Eastern European countries have some of the highest estimated abortion rates in the world. Until more recent years the recorded abortion rate was higher than the live birth rate. According to information posted by the World Health Organization, in 2008 there were 281 abortions performed for every 1000 live births in the country of Ukraine. Most likely the "unofficial" figures are much higher.
I hope you take some time to pray for our translation team and for Christina. We'd like to have these resources available asap but we don't want to sacrifice quality either.
Here are a few ways that you can effectively pray:
1. Pray that the translation team produce a quality translation that can be used by Russian speakers
2. Pray for Doug as he heads up the translation team
3. Pray for Christina as she balances family and ministry
4. Pray for the pro-life ministry in Ukraine. It's just getting started so there are a lot of hurdles.
Question: Will you pray this month for our translation team and the pro-life ministry in Ukraine?