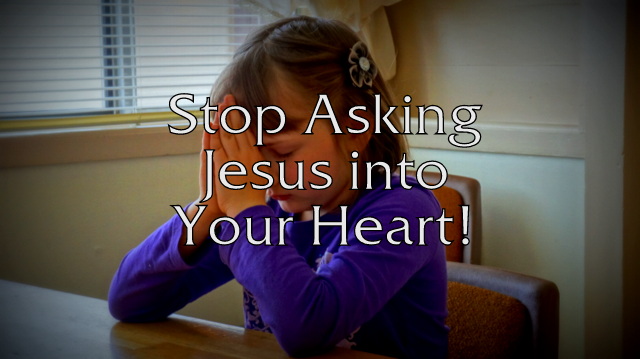 God does not save people because they said the "sinners prayer" or because they asked Jesus to come into their heart!
Many assume they are "safe" because they can recall a time, probably in their childhood, when they repeated a prayer or came forward during a church service or maybe they raised their hand when an invitation was given while everyone's heads were bowed and eyes were closed.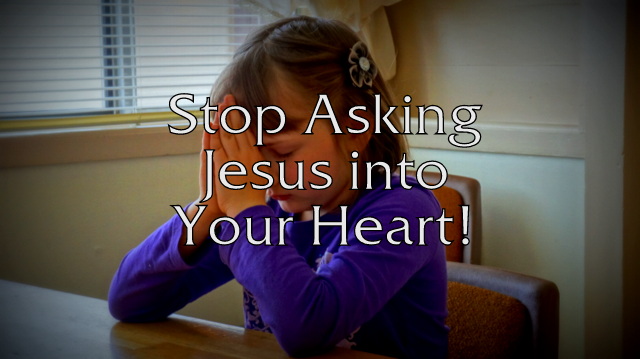 Unfortunately, they are deceiving themselves! That prayer, that raised hand or even coming forward at the end of the service with tears and true confessions doesn't mean God has forgiven them!
On the other hand many Christians live with doubt that maybe their faith isn't real, maybe God hasn't saved them, maybe they didn't do it right and maybe they're headed for eternal punishment after all.
J.D. Greear deals with both of these issues head on in his wonderful little book called "Stop Asking Jesus into Your Heart." He speaks as a pastor and as one with great experience in dealing with these problems in his own heart. In fact he claims to hold the world record for the most times anyone has asked Jesus into his heart. He also doubted his salvation so much that he was baptized a total of 4 times just to make sure that it was the real thing!
Praying the sinner's prayer isn't really wrong, in fact it's a good thing if it's done with the heart but we also need to understand that you can be saved without ever uttering the sinners prayer or asking Jesus into your heart.
Greear writes,
"You can 'ask Jesus into your heart' without repenting and believing, and you can repent and believe without articulating a request for Jesus to come into your heart."

"The sinner's prayer is not a magic incantation or a recipe you follow to get a salvation cake. The real stuff-the stuff that matters-is the posture of repentance and faith behind the words you speak. The prayer is good only insofar as it verbalizes the posture."
These are important truths for us to remember whether we are sharing the good news of Jesus in Ukraine or in the US. We are calling people to respond to our message in a specific way. Sometimes this may mean that they will pray or come forward but that's not the important thing.
We must call for heart level repentance and true faith in Jesus!
This is the response called for in the Bible, just check out John 3:36, Acts 16:30-31, Romans 4:5 or Romans 10:9-10
Greear explains it this way,
"Repentance is not simply praying a prayer that acknowledges our sinfulness and asks for forgiveness. Nor is it walking an aisle, signing a card, or giving a public testimony. Repentance is not fundamentally a motion of the hands, mouth or feet; it is a motion of the heart in which we abandon our posture of rebellion and adopt one of submission toward Christ. Repentance is evidenced by an outward action, but it does not equal that."

"Repentance is not subsequent to belief; it is part of belief. It is belief in action – choices that flow out of conviction."
If repentance and belief are not the key components we are calling for as we share the gospel then we are leading people astray and giving them a false hope. What it really comes down to is something quite simple, Greear says,
"Salvation comes comes not because you prayed a prayer correctly, but because you have leaned the hopes of your soul on the finished work of Christ."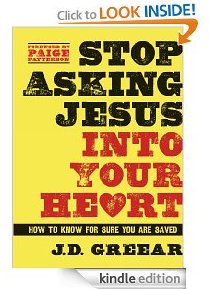 This book is a quick read, (just over 100 pages) and I recommend that you check it out. It is something I'll have on hand as I think it is a great resource to give to new believers who are struggling to understand the true nature of saving faith. It may also be helpful to give to someone who is still unsure whether he wants to put his faith in Christ and what that means if he does.
You can purchase the book on Amazon here and if you do a small percentage comes back to us, so thank you!
Question: Have you ever said the sinners prayer or gone down the aisle just to make sure you were really saved?