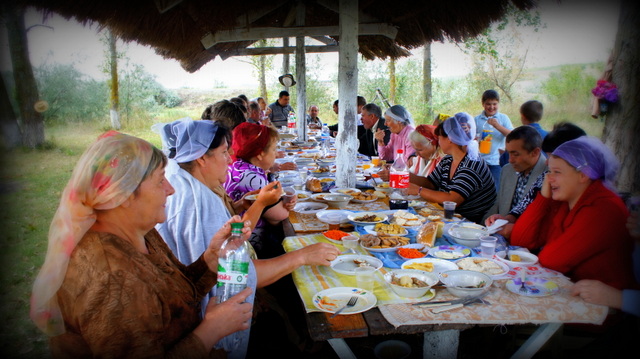 What happens when your church gathers for worship? It seems that most churches have a few basics that go into each Sunday morning. Usually it includes a few songs, announcements, some prayer time a sermon and another song or two.
Many churches understand that it is important  not to neglect the meeting together (Heb 10:24). However, far too many churches fail to strategically plan what they do and, more importantly, why they do it!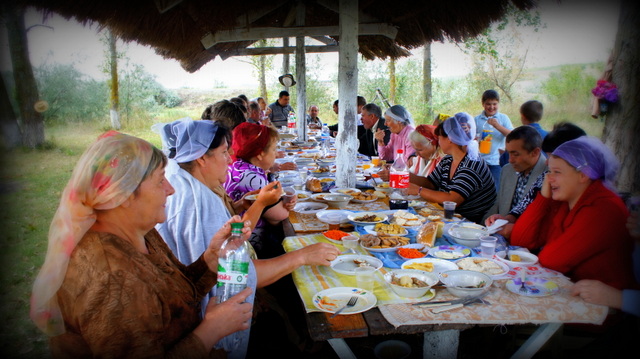 What makes a great gathering?
The picture above is of one of my all time favorite church gatherings. It was a baptismal celebration for the church in the village of Sahanskoe.
They held the baptism at a small lake near their village. Afterwards the church and guests gathered for worship, communion and then to share a meal!
It was simple, it was enjoyable, it was encouraging and most importantly God was glorified!
What did the first church do when it gathered?
The early church didn't leave behind any bulletins or orders of service but we do have some great clues right from the book of Acts.
Check out this passage.
And they devoted themselves to the apostles' teaching and the fellowship, to the breaking of bread and the prayers. And awe came upon every soul, and many wonders and signs were being done through the apostles. And all who believed were together and had all things in common. And they were selling their possessions and belongings and distributing the proceeds to all, as any had need. And day by day, attending the temple together and breaking bread in their homes, they received their food with glad and generous hearts, praising God and having favor with all the people. And the Lord added to their number day by day those who were being saved.
Act 2:42-47
Here are just a few things we can see happening during the gatherings of the first church.
They learned God's word together
They enjoyed each other's fellowship
They shared meals together
They prayed together
They gave to the needy
They met regularly
They met in public places (the temple)
They met in private places (their homes)
Their meetings were typically joyful and glad
They praised God
Resources
Author Frank Viola has done a lot of work and writing on the early church.
While I don't agree with all of his application I have found his books helpful in understanding how the early church approached gathers and what it might have been like to be at an early church gathering.
It would be worth your while to read Reimagining Church: Pursuing the Dream of Organic Christianity if you do read it, let me know what you think.
Question: Do your church meetings accomplish the things listed above? What does your church do well when it gathers? What areas need strengthening in your church?