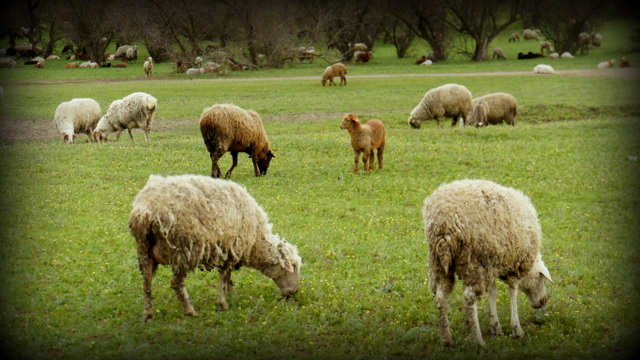 Last week our family visited the church in the village of Buyalick. There are no paved roads leading to Buyalick so when it's dry enough the best way to get there is by traveling across the fields on makeshift dirt roads.
On our way home we dipped into a small green valley and as we rounded the corner came upon a large flock of sheep. As we slowly approached the grazing flock one of my kids exclaimed "Oh gross!"
At a distance the flock of sheep looked white but we soon found out that was far from the truth. From the lower half of each sheep hung large clumps of wool caked with soil and feces. They were not all fuzzy and cuddly like you see in the Bible story books!
I realized this was a teachable moment for my children and told them, "Can you believe the Bible says that we are all like sheep and God still loves us?"
A Self Inflated Culture
Society teaches us that we need to raise our opinion of self, that we are better than we think, that we are worthy of more. Here's a recent post on Twitter from the Queen of self-esteem, Oprah:
Only make decisions that support your self-image, self-esteem, and self-worth.
A Self Infatuated Church
The cultural message of self magnanimity has already thrust its way into the pulpits of our churches. Take for example Pastor Joel Osteen whose books are consistently at the top of the Christian best-seller list.
You don't have to do much more than read a list of his recent book titles to see the emphasis on self greatness and personal worthiness.
In his book Your Best Life Now Joel Osteen puts it this way:
You must learn how to cast down those negative thoughts and begin to see yourself as God sees you-as a winner, an overcomer. He sees you as being "well able." If you want the circumstances to change for the better in your life, you must first see them changing through your "eyes of faith." You must see yourself as happy, fulfilled, and successful, living an overcoming life.
A Biblical Picture of Self
The Bible paints a different picture of mankind. One common illustration of man is that of a lost sheep.
[esv scripture='Isa 53:6′]
Comparing us to sheep is not flattering. Sheep are dirty animals, they are of low intelligence, they are weak and defenseless and if left on their own would not survive for long.
The overwhelming message of the Bible is that man needs to lower his opinion of self and raise his opinion of God. That's what the prophet Isaiah was talking about when he said:
[esv scripture='Isa 40:15′]
Thankfully we have a loving Shepherd who picks us up an carries us in his arms Isa 40:11.
He loves us not because we are so great but because he is so great, not because we are worthy but because he is worthy, not because we have convinced ourselves that we are overcomers but because he has already overcome everything for us!
Question: How does our understanding of who God is affect our concept of self?