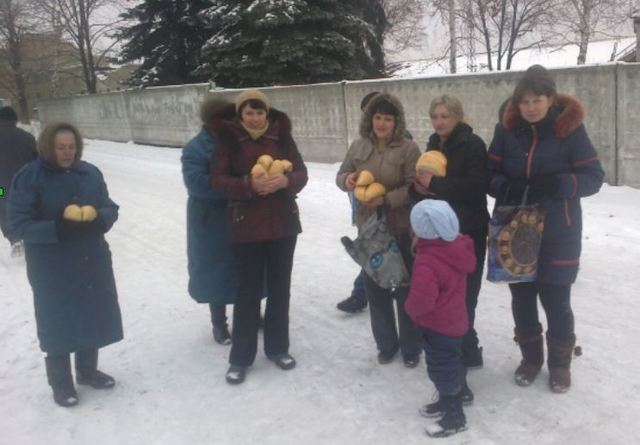 Can there be peace in Ukraine after the latest ceasefire deal has completely crumbled?
In this week's episode of "Now Is the Time" I share with you how things have gone from bad to worse in Eastern Ukraine. I also share with you a story of people finding peace right in the middle of the war zone.
Podcast: Play in new window | Download (Duration: 19:22 — 17.7MB) | Embed
A Historic Week
It's been a year since the bloodshed started making this a historic week. After president Yanokovich fled in February 2014 many people celebrated, but I wrote on my blog what turned out to be prophetic words "This isn't Victory Yet! A Call for Reconciliation in Ukraine"
There Is No Cease-fire
As you probably know the "cease-fire" ended up with one of the fiercest battles yet. It wasn't a big surprise to anyone but it was sad! Ukrainians are struggling to hold onto hope with one loss after another.
Unfortunately the government and the army are not yet able to bring peace to Ukraine!
Peace in the War Zone
Yet people are finding peace right in the middle of the fighting.
Today I want to share with you a letter from a church called "Gospel Light" in the war zone in Eastern Ukraine that is providing for both the physical and spiritual needs of people. I think you'll agree with me that they are fulfilling God's purpose for the church in beautiful way.
---
"When the war began, our church had 50 members. 45 remain now. Our worship services have not ceased, even during this time. In August, during the worst of the shelling of the city, there were always 15-20 people taking shelter in our basement. They could not stay at home because of the danger of falling shells/bombs. During that time, we organized daily meals for all those living at the prayer house. We had to cancel Sunday evening services, and just meet in the morning.
The economic condition of our church members and everyone in the city grows worse and worse every day. Especially critical is the situation of retirees, who were not able to register for their pensions in a territory outside the war zone. Also many invalids, families with many children, and young people who lost their jobs, have no resources for their living expenses. So our church decided to organize for these people a charity lunch. Having limited resources, we started to feed them four times each week. The leadership of our association helps with groceries and funds as much as possible, but the number of people who need food are considerably greater than our resources. We see the importance of this ministry in both physical and spiritual nourishment. People value even a small piece of bread, which they hide in their pocket, to eat for dinner later. We hear multitudes of testimonies from people who have literally survived, thanks to these lunches, which impels us to continue this ministry.
For two months we have been feeding people. Our whole church participates in this work. Every time now, we feed 180-190 people four times per week. That does not include people who are unable to leave their homes. So we take groceries to 30 families once a week.
But all of this is not the most important thing. Remembering that people cannot live by bread alone, we also give them the Word of God. Every time, before lunch, we preach the Word to them. They receive a New Testament and other literature. Since the fall of the USSR in the early 90's there has not been such a hunger, as there is now. Therefore, we invite them to the Sunday service.
Now the auditorium begins to fill up even an hour before the service with people who do not yet know Christ. 80-100 people visit the services, besides the members. Recently five repented, and for that we thank the Lord and pray that God would strengthen their faith.
In personal conversations, we find out about the miraculous working of the Holy Spirit in the hearts of people. So many who would have never entered the doors of a Baptist church, are now testifying about their desire to serve God. The love and attention of our church members, the team of cooks and helpers, have opened people's eyes to see the light of Christ and made their hearts receptive to conversations about faith.
Of course all this work is incredibly difficult. Each week we prepare 650-700 portions, which is physically very hard. And our own church members also live in difficult economic conditions. But in spite of that, we pray that the Lord would continue to help us extend the borders of the Kingdom of God.
We are so thankful for all the churches and missions that participate in the needs of the saints and all the needy in our area. We pray that there will continue to be the possibility of jointly accomplishing this ministry."
---
Their story is not Unique in Eastern Ukraine, and I think it shows us what the Church looks like when all it's programs, events, and activities are stripped down to gospel basics.
Ironically we're so often caught in ministry activity that it's easy to lose sight of the basics.
Man needs bread to feed his body and his soul! (Mat 6:11, Joh 6:51)
Prayer and Fasting
As we did one year ago, once again we are asking you to pray and fast for Ukraine. I'll be sending out a special prayer list tomorrow. If you can join us in prayer and fasting on either Saturday or Sunday, please let me know.
If you want to get the prayer list tomorrow you can sign up here.